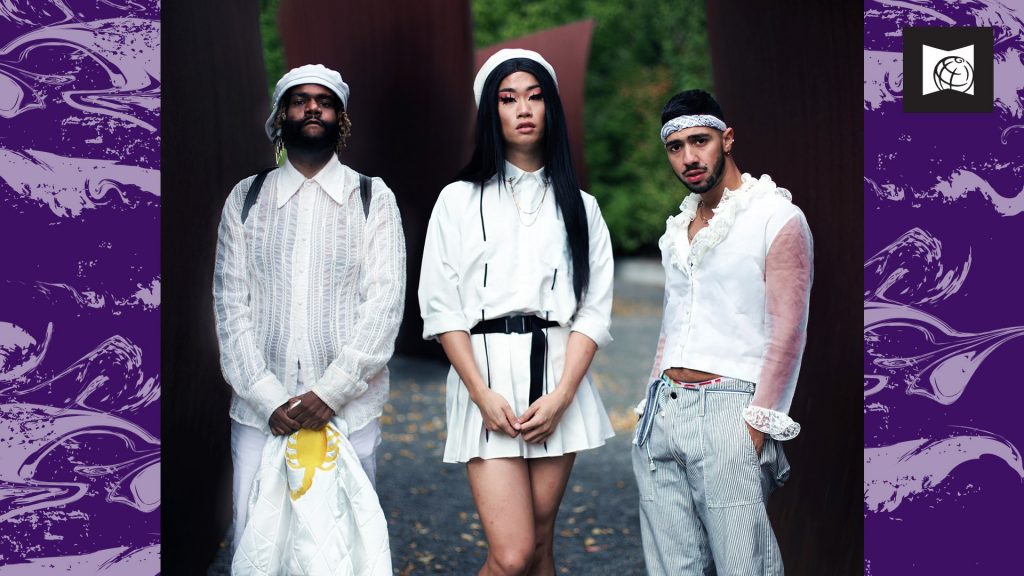 I say "happy/sad" about the news that the Seattle Public Library has announced the return of their fun annual arty dance party that centers on Queer and Transgender People of Color (but, the party is open to EVERYONE) scheduled for October 1st. It's obviously happy news because it's such a terrific event…the entertainment is diverse and energetic and people get really dressed up for it and it's a classy/sexy/arty farty kind of cultural party that really makes an effort to provide a great time for everyone.
It's also sad because the Seattle Public Library has decided it's best to make this a virtual only event for 2021. Sad in the sense that while online parties can provide entertainment, they're still not the same as the "real" deal…a live, in-person event.
BUT, it's still a fun thing to do and a great event to support. And, even though they're not doing an in-person shindig, they're still producing a helluva show for this year.
Check out the info for this year's event including the performance line-up:
The Seattle Public Library will host the 2021 virtual edition of Legendary Children from 8 to 10 p.m. on Friday, Oct. 1. Legendary Children is an evening of representation, dance, empowerment, art and social justice that celebrates QTBIPOC communities (Queer and Trans Black, Indigenous and People of Color).

You can RSVP on Facebook and check back for the streaming link, which will be posted soon.
This year's showstopping virtual event will include live performances, hot DJs and high art from the Pacific Northwest's house and ball community. Come for the art, stay for the public runway.

The Library will also share resources from QTBIPOC authors. This virtual event is designed to be trans-affirming, QTBIPOC-led and open to all-ages. Library events and programs are free and everyone is welcome.     

ARTISTS BIOS PROVIDED BY 2021 LEGENDARY CHILDREN CURATORS AND PERFORMERS
Legendary Children's soundscape will be curated by DJ Riz Rollins. Here are bios provided by this year's curators and performers:
CURATORS
Dakota Camacho believes in creativity as a record of interaction with the spirit realm. Exploring the overlap between integrity, ancestral/Indigenous life ways, true love and accountability, guiya (they) activate a Matao worldview to make offerings towards inafa'maolek (balance and harmony with all of life).
dani tirrell, a movement artist/curator/movement guide/educator/space holder, is a queer Black, trans spectrum, 40+-year-old movement artist and the founder of The Congregation, a movement/art collection of voices. dani is currently teaching at Northwest Tap Connection and University of Washington and is the Artist in Residence at Velocity Dance Center (2020/2021) and one of six Artists in Residence at On the Boards in Seattle. In 2019, dani was the recipient of an Artist Trust Fellowship Award and a Dance Crush Award for "Black Bois."
David Rue is a dance artist and creative professional born in Liberia, and raised in Minnesota. He is a graduate of the University of Minnesota with a bachelor of individualized studies that combined Journalism, English and Dance. Through his work as Public Engagement department of Seattle Art Museum and Programs Coordinator of Friends of Waterfront Seattle, he conceptualizes and implements arts programming that help adult audiences more deeply engage with the visual and performing arts using the lens of equity, excellence and joy.
Momma Nikki (she/they/he), is a non-binary Haitian artist who wants to keep Queer & Trans BlPOC at the center of their work. They are an organizer for Taking B(l)ack Pride in Seattle, a curator for Legendary Children, an artist resident with The Seattle Public Library, and an artist mentor with Totem Star. They produced their first documentary in the fall of 2017 and is currently working on local projects.
Sefina Vailoa Aulei (she/her) is the Kiki Ballroom Mother of the Illustrious House of Essence. She is a community builder, artist and mentor who prioritizes her mentorship to trans women and trans girls of color local to Seattle, providing a safe space to support their goals and creativity. She is a Program Coordinator at UTOPIA Washington, an established nonprofit organization founded and led by Pasifika Trans Women.
PERFORMERS
Amiyah Nichelle is charm, grace, style, talent, not to mention astonishing beauty. She is a total package! But we wouldn't expect anything less from the doll herself, Ms. Amiyah Nichelle! All this plus her high charismatic energy. Amiyah is the doll you will NOT want to miss!
Augusto Essence was born in Mexico and moved to the states at 11-years-old. Part of The Illustrious House of Essence, Augusto walks Vogue Femme, and plans to storm European Runway one day (and get a trophy). Augusto is here to expose Latinx folx to ballroom.
CarLarans (pronounced Car-Luh-rons) is an electro-soul and hip-hop artist, activist, and musician born in southern Indiana, now based in Seattle. Influences from soul, gospel, electric dance music (EDM) and hip-hop make up his unique sound, through the medium of sultry vocals, pop hooks and true life lyrics.
Chi-Chi Khaos is Founding Mother of the House of Khaos. The House of Khaos are here to shake up our current consciousness to make room for evolution! Chi-Chi dedicates most of their time building and supporting Black and Brown Queer spaces in Tacoma and looking forward to creating and supporting more Queer BIPOC and leading developing safe spaces and creating outreach projects.
Saira Barbaric is a multidisciplinary creator of the erotic and the bizarre. Saira (they/he/ze/she) was a costume assistant at a Delaware dinner theater in 2007 and fell in love with the arts as work and the craft of creating. Based out of Seattle since 2015, Saira has produced over two dozen events around town and shown films, visual art and performance pieces at over 15 cities in North America and Europe.
Viper Veneno came to Seattle in June 2019 and has been hitting the ground running ever since. In little under a year, she placed and won two drag competitions, including as Washington entertainer of the year 2020. This activist, model, female rapper, entrepreneur and showgirl is an up-and-coming Femme Queen in the Seattle ballroom scene.
MORE INFORMATION
This event is free and everyone is welcome. The registration link in the Library's calendar for the live audience and streaming links for Facebook and YouTube will be available closer to the date of the event.
We can provide accommodations for people with disabilities at Library events. Please contact leap@spl.org at least seven days before the event to request accommodations. Captions are available for all recorded Library programs. This event will be recorded for podcast.
This event is made possible by The Seattle Public Library Foundation. It is presented in partnership with Seattle Art Museum and community partners.
The Library's dynamic approach to programming brings people, information and ideas together to build community, promote respect and mutual understanding, and enrich the lives of the people we serve. We celebrate Seattle's many cultures by forming strong partnerships with community organizations to offer art that is accessible to all.
(Visited 1 times, 1 visits today)