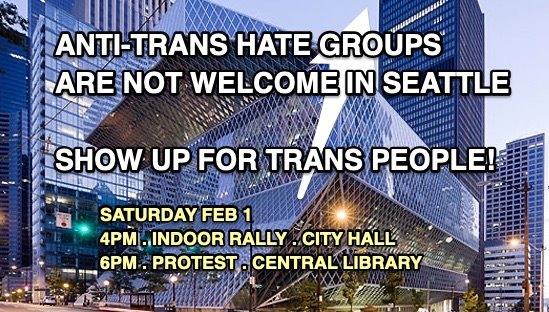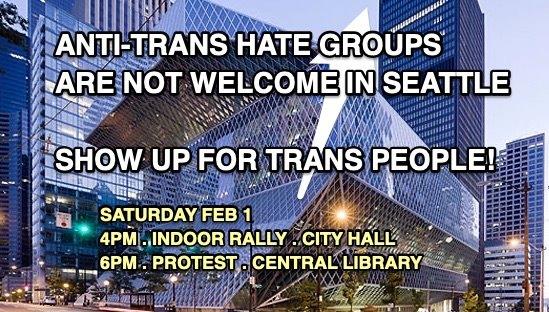 Heads up reminder about the Rally and Protest at the downtown Seattle Public Library at 1000 4th Avenue over the Seattle Public Library's decision to allow a trans exclusionary feminist group to hold a public forum at the library today, Saturday, February 1st.
The uproar began on December 6, 2019 when it was announced that the group known as the "Women's Liberation Front" aka "WoLF" had scheduled a community forum to be held February 1, 2020 at the downtown Seattle Public Library. The group, a national radical feminist advocacy coalition, is much loathed by the transgender community and allies for their positions on transgender rights and gender identity within the context of the feminist movement. The forum scheduled for February 1st is called "Fighting the New Misogyny: A Feminist Critique of Gender Identity" and its chief focus is that very topic.
The Library vowed to review the group's application but when they announced on January 10th that they would allow the group to speak, transgender community leaders vowed to protest. A Facebook invite was created with the following information:
SCHEDULE (feel free to attend the full event, or part):

SATURDAY FEB 1 . 3PM-6PM (recommend showing up by 4PM)
INDOOR RALLY AT CITY HALL (600 4th Ave)
BERTHA KNIGHT LANDES ROOM

3PM-4:30PM:
Free organizing and sign-making; limited sign-making materials will be available, but you are encouraged to bring your own!

4:30-5:30PM:
Speakers include:
• Tobi Hill-Meyer – Gender Justice League
• Devon Rose Davis – Justice for Nikki
• Idabelle Fosse – Seattle Women's Commission
• Emma Allen – Radical Women
• TBD – City Councilmember Kshama Sawant's office
• J Mase III – poet, activist, author
• TBD – Washington State LGBTQ Comission
• Jery Che – Make Our Libraries Safe

5:30PM-6:00PM
Coordination and March to Seattle Central Library at 5:45pm (4 blocks away)
******************************
SATURDAY FEB 1. 6PM-7PM
OUTDOOR PROTEST AT SEATTLE CENTRAL LIBRARY (1000 4th Ave)

The WoLF event will be taking place from 7PM-9PM inside the library. Attendees to the hate event (ticketholders only) will be let in at 6:30PM.
******************************
BRING (recommended):
– Clothing appropriate for cold and possible rain
– Any supportive friends/family/colleagues/comrades — friendly trans and cis people are very welcome

OPTIONAL:
– Signs
– Signmaking materials (if attending City Hall prior to 4:30)
– Flashlights, headlamps, or other creative outdoor/rain-resistant lighting — there will be downtown lighting, but it will be relatively dark
– Other creative protest displays or equipment

DO NOT BRING (recommended):
– Anything that can be construed as a weapon; at protests, SPD has consistently used any stretch that something could be a weapon as justification to confiscate signs, use tear gas/pepper spray, or even conduct arrests in extreme cases. Examples of items that SPD may use as justification to take action include nails or bolts that show through protest signs, banners with wooden frames, etc. Standard signs with wooden handles should be completely fine.
******************************
LOGISTICS:
– Seattle Central Library closes to the public at 6pm.

– SPD wants people to stay on the sidewalk unless there are enough people for them block off a street; SPD will block off one block (likely on 4th avenue) if people do not fit on the sidewalk

– The parking garage under Seattle Central Library will be closed; there are several other paid parking garages in the area, or several bus lines and light rail stop very close. Lyft/Uber is an option. Free parking is unfortunately relatively far away; you can use this map to locate free & paid street parking: http://web6.seattle.gov/SDOT/seattleparkingmap/

– There will likely be press and other cameras; be prepared to be recorded, or cover your face as you deem appropriate.

– The protest is intended to be peaceful, but we are unsure if there will be far-right disruption (Proud Boys, 3%'ers, Patriot Prayer, other transphobes and fascists). We do have security, medics, and legal observers available, and expect you to be safe. If you see any disruption or violent action, please calmly leave the area if you are not prepared to be arrested. SPD has arrested peaceful protesters who are just in the vicinity of disruptions in the past.
(Visited 3 times, 1 visits today)