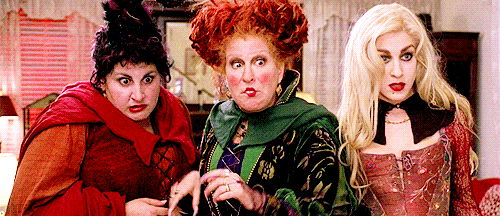 Your hopes and dreams (or nightmares, as the case may be) will be fulfilled on Friday, October 30th when the witchy Sanderson Sisters from the ridiculously beloved 1993 Disney film, HOCUS POCUS will return for ONE NIGHT ONLY for a fabulous fundraiser.
Yes, you just read that right…the one and only BETTE MIDLER, the star of the film as the head witch Winifred Sanderson, has put together a massive fundraiser event to benefit an organization she created back in 1995, New York City's Restoration Project, a conservancy group that cleans up NYC and plants trees and does all sorts of earth/sky/water friendly stuff. It's strictly an online/digital party (which will NOT be repeated, though you know people will figure out a way to download it…) and it's only $10 and you can grab your tickets HERE!
If you need further temptation to watch, then also be aware that Bette snagged most of her co-stars from the film including her witch sisters, Kathy Najimy and Sarah Jessica Parker, so it's a complete Sanderson Sister reunion. Not to mention they've also supposedly booked the kids from the film, Omri Katz, Vinessa Shaw and Thora Birch (who obviously aren't kids anymore; it's been almost 30 years!) as well as the great Doug Jones who played Billy, the Zombie Boyfriend of Winifred.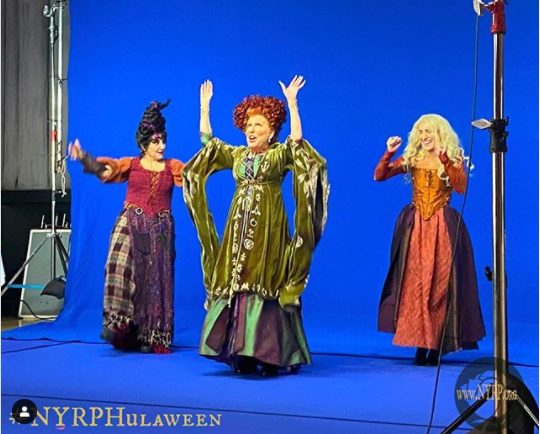 But, wait! There's more! Glenn Close, Billy Eichner, Jennifer Hudson, Adam Lambert, John Stamos, Meryl Streep, Billy Crystal, Todrick Hall, Martin Short and many others are also going to be on hand PLUS you can also buy merch at the same link for the tickets, though a lot has already sold out.
The Sandersons and Hocus Pocus are so popular, this event should raise a lot of moola for NY Restoration Society…plus, maybe it'll actually get Disney motivated to make a SEQUEL!
Frequently, sequels decades after the original aren't successful but this movie and these characters have millions of fans who have been clamoring for this to happen for over 20 years. They WILL buy a ticket!
(Visited 1 times, 1 visits today)