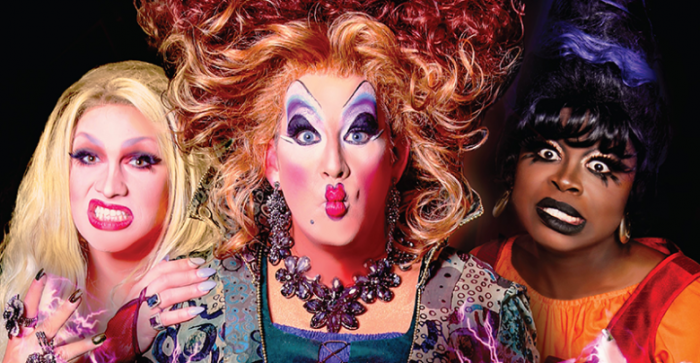 …but it should be!
Yes, HOCUM POKEM, the drag parody of the cherished Disney comedy "Hocus Pocus" starring Bette Midler is returning to the boards at theaters across this great planet of ours this fall. It's yet another drag travesty concocted by San Francisco's most theatrical diva PEACHES CHRIST and it's a reprise of a show she originally did a couple years back. Returning from that version is Seattle's own JINKX MONSOON in the supporting role as the sexy dimmer witch (played by Sarah Jessica Parker in the film) but apparently BenDeLaCreme was unavailable to return to her role as the "full figured" sister witch (Kathy Najimy in the movie) so "RuPaul's Drag Race Season 6" star Ginger Minj was cast in that part (good casting!) but apparently she got some other high profile gig (really?) and so she has been replaced by BOB THE DRAG QUEEN, of all people, which will now make this the 387th show that Bob TDQ has done in Seattle this year!
Got all that?
"Hocum Pokem" is heading to Seattle's Egyptian Cinema on Capitol Hill for two shows on Thursday, September 28th at 7 pm and 9:30 pm. The 7 pm show is now sold out but if you HURRY you can grab one of the few seats left for the 9:30 show…go here!!!!
The show then heads to Portland Oregon's Aladdin Theatre on Saturday the 30th (tix) then back to San Francisco's Castro Theatre on October 7th!
Qurb Magazine has also announced the rest of the cast for the Seattle/Portland shows:
The star-studded drag coven includes some familiar faces returning from previous Seattle and Portland Peaches Christ productions including:  Abbey Roads, Sylvia O'Stayformore, Mackenzie Miller, Isabella Extynn, Tipsy Rose Lee, Visage "Legs" LaRue, and Strawberry Shartcake. Newcomers to this production include:  Seattle's own Nick Sahoyah and Ruby Bouche, as well as a very special guest appearance by San Francisco's Cousin Wonderlette.
SNATCH THOSE TICKETS NOW! Portland is also almost sold out and the 9:30pm show in Seattle is getting close!!!
(Visited 1 times, 1 visits today)