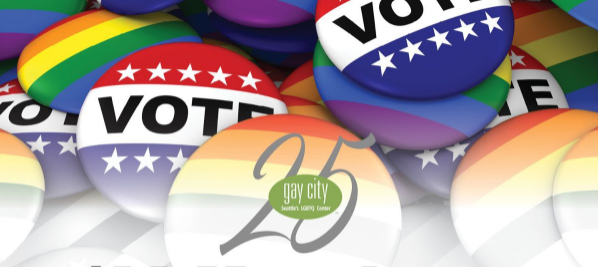 Have you voted?!?!?
Are you going to vote?
Did you forget to register to vote?
Gay City, Seattle's LGBTQ Center has some answers for anyone coping with the stress of voting in this year's elections which wrap up on Tuesday, November 3rd. One of the most important things to note is, if you haven't managed to REGISTER to vote, you can still do so (in Washington State) by OCTOBER 26th (Monday)! Go here to register NOW!
Also, Gay City has prepared a handy dandy guide to help you prepare for Elections 2020 with their "10 Ways to Prepare for Election" guide! Go here to check THAT out.
AND, Gay City's Executive Director Fred Swanson has this message for the community:
As we near the birthday of one of our dear LGBTQ+ activists, Miss Major (Oct. 25), we recognize some of the greatest strengths our community has against the erasure of our community's rights – voting and speaking out.

At Gay City, we're advocating for the future our community deserves and we're asking you to join us in our quest to queer out the vote for the Presidential election and fight for our day in the supreme court. Learn more in this newsletter below before tonight's debate, and help fight for our day in court.

Something else we continue to fight for is access to sexual health services. Since the outbreak of COVID-19, we continue to see clients for HIV and STI testing, as well as PrEP services by appointment. If you've been exposed to COVID-19 or have symptoms, we ask that you wait to schedule an appointment until you are well.
So, there you have it! Now, you have all the info you need to vote out the Orange Menace and his Shifty Ass Minions!
(Visited 1 times, 1 visits today)