June 1, 2021

•
by
Michael Strangeways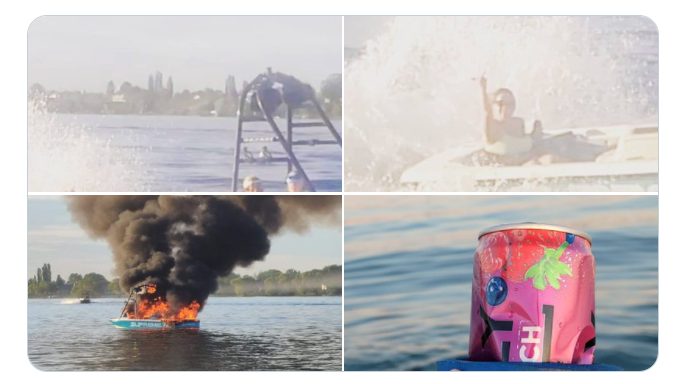 Oh, my! The big meme making the rounds today is hashtagged, #KarmaIsReal and features some apparent cosmic retribution. A family in Moses Lake, Washington was enjoying the lovely weather on Sunday with a boat ride when they were harassed by another boat full of idiots shouting gay slurs because the family's boat had gay rainbow flags flying from it.
Then, moments later, the Bigot Boat caught on fire and subsequently exploded! The people on board managed to jump off prior to the explosion and were rescued by the people they had been mocking just moments earlier.
The poster is named "Cosmic Robbie" on their social media account which identified them as "BIPOC" and a Trans and Queer healthcare professional living in Moses Lake, Washington in the central part of the state in Clark Grant County and about 177 miles east of Seattle. "Robbie" posted the video which was apparently taken by their brother. If you go to the Twitter page, there's more photos of the incident.
KXLY TV from Spokane reports that the Grant County Sheriff's Department is investigating the incident.
(Visited 1 times, 1 visits today)
As the Editorial Director/Co-Owner, Michael Strangeways writes, edits and does about a million other jobs for Seattle Gay Scene, Puget Sound's most visited LGBTQ news, arts and entertainment website now celebrating its 14th year as a media outlet. A semi-proud Midwesterner by birth, he's lived in Seattle since 2000. He's also a film producer who would like you to check out the Jinkx Monsoon documentary, "Drag Becomes Him" now available on Amazon.com. In his spare time, he gets slightly obsessive about his love for old movies, challenging theater, "otters", vodka, chocolate, "I,Claudius", Lizzie Borden, real books made out of paper, disaster films, show tunes, Weimar era Germany, flea markets, pop surrealistic art, the sex lives of Hollywood actors both living and dead, kitties, chicken fried steak, haute couture and David Bowie. But, not necessarily in that order.