TAKING B[L]ACK PRIDE @ Jimi Hendrix Park (Live, In-Person Event)
June 26, 2021 @ 1:00 pm

-

10:00 pm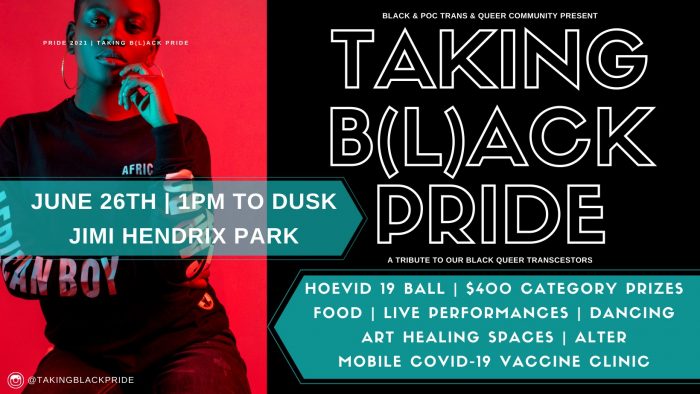 In collaboration with: Trans Women of Color Solidarity Network, Alphabet Alliance of Color, ,
To Our Community,
Our hearts break in the shadow of the recent deaths of our trans siblings Dominique Lucious, Diamond Kyree Sanders and Jaida Peterson. This Pride we honor our fallen, and raise them up! This Pride Month we take our community back!
"TAKING B[L]ACK PRIDE" is about lifting the voices, narratives, and contributions of black queer and trans voices. It's about centering who we are and what we need to feel empowered, joyful, and heard.
****All are free to attend HOWEVER this is a BLACK AND BROWN QUEER TRANS CENTERED, PRIORITIZED, VALUED, EVENT.
White allies and accomplices are welcome to attend but will be charged a $10 to $50 reparations fee that will be used to keep this event free of cost for BLACK AND BROWN Trans and Queer COMMUNITY. ****
Please join us for our HOEVID-19 Ball with $400 category prizes and much much more!
Come join us for food, movies in the park, performances and open speak spaces, art healing spaces, music, and, dancing in a social distancing friendly park!
We will also have a Covid-19 vaccine clinic
(Masks Mandatory masks available.)
Support TAKING B[L]ACK PRIDE!
Venmo- @TWOCSolidarity-NW
Cash App-$TWOCSolidarityNW
PayPal-TWOCSolidarityNW
(Visited 1 times, 1 visits today)