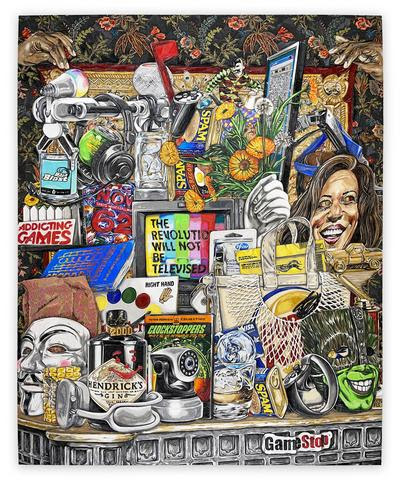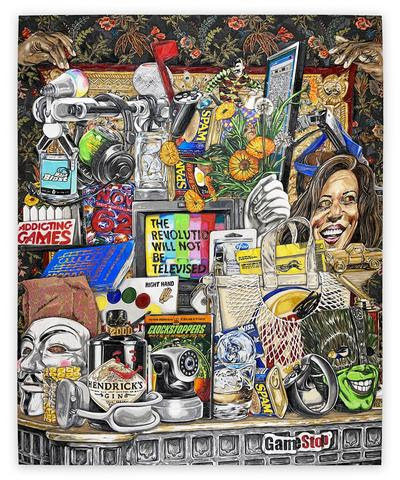 Today, the Seattle Art Museum, aka "SAM", announced that ANTHONY WHITE has won this year's Betty Bowen Award which honors a Pacific Northwest artist with a major cash prize and a solo show at the museum. White has another major milestone coming up in October; he'll be featured with another queer artist, Dean Sameshima at their joint exhibition "Queer Visibility: Dean Sameshima & Anthony White" at the Henry Art Gallery at the University of Washington beginning October 8, 2021.
White, a 28 year old native of California, attended Cornish College of the Arts who "identifies personal memorabilia and brand icons within domestic and digital spaces, seeking to discover why certain consumer objects and ideas are idealized. Ranging from luxury to lowbrow and painstakingly "painted" with PLA (a melted biodegradable plastic), the consumer items and symbols in his densely packed still lifes and portraits form an identity of desire. Often these scenes examine the framing of social media and selfies, capturing moments from behind the cell phone lens."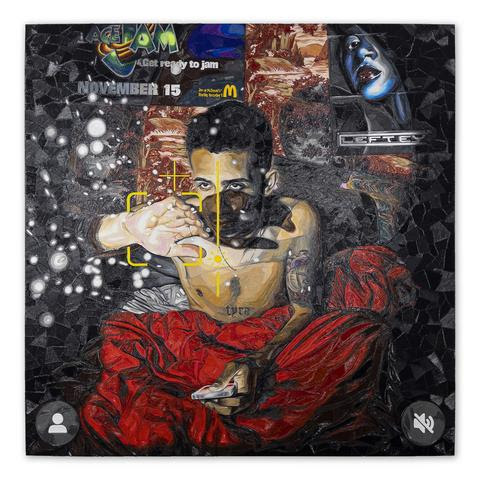 Via the press release:
SEATTLE, WA – The Seattle Art Museum (SAM) and Betty Bowen Committee, chaired by Gary Glant, announced today that Anthony White is the winner of the 2021 Betty Bowen Award. The juried award comes with an unrestricted cash award of $15,000 and a solo exhibition at SAM. Founded in 1977 to continue the legacy of local arts advocate and supporter Betty Bowen, the annual award honors a Northwest artist for their original, exceptional, and compelling work.
In Anthony White's work, composed of PLA plastic, consumer items and brand symbols that define our moment coalesce to offer a reflection of society through the lens of social media, cell phones, and selfies. In 2019, White was the recipient of the Kayla Skinner Special Recognition Award, and in 2020 he won the Neddy at Cornish Painting Award. Recent exhibitions include (the soon to open) Queer Visibility: Dean Sameshima & Anthony White at the Henry Art Gallery, Seattle and solo shows at Greg Kucera Gallery, Seattle and PUBLIC Gallery, London. White's work will be featured at the Seattle Art Museum in a solo exhibition in 2022, with dates to be announced.

In addition, Humaira Abid won the Kayla Skinner Special Recognition Award and Tariqa Waters won the Gary Glant Special Recognition Award, with awards in the amount of $2,500 each. Finalists Barry Johnson, Howard L. Mitchell, and Kimisha Turner will each receive Special Commendation Awards in the amount of $1,500, added by the committee last year and continuing this year. The six finalists were chosen from a pool of 420 applicants from Washington, Oregon, and Idaho to compete for the $24,500 in awards.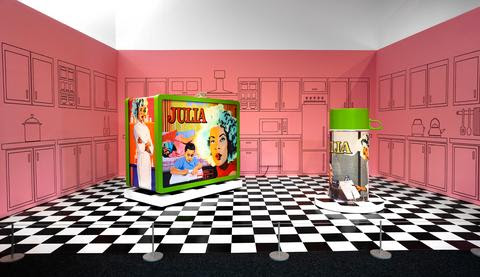 "I have dreamt of one day exhibiting my work at the Seattle Art Museum, and it's exciting that the opportunity is now in sight," says White. "I look forward to sharing this experience with my family and friends; Seattle and the Seattle art community; anyone who is interested in slowing down and participating with my work; and most importantly, with those who look, sound, and act like me. Being selected for this award is an incredible honor, and I thank the selection committee and the Seattle Art Museum. I am so motivated and I know my abilities as an artist will be pushed because of this."
(Visited 20 times, 1 visits today)