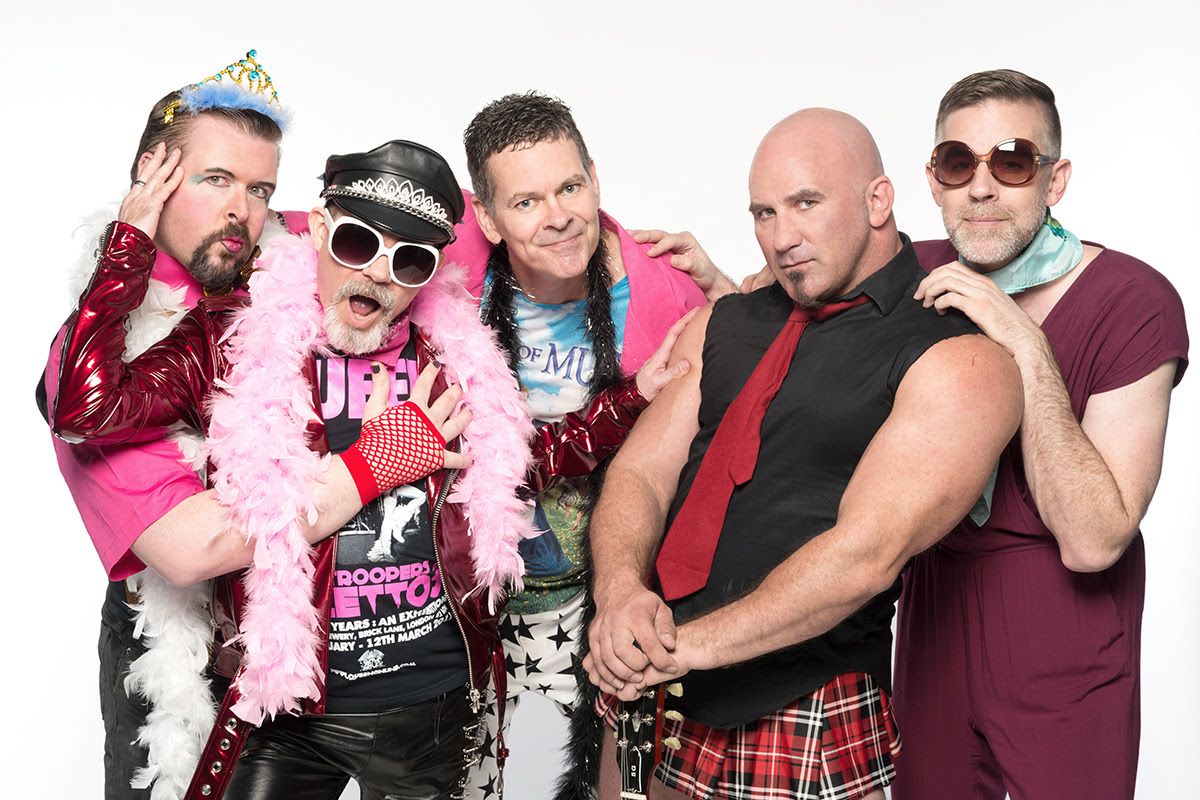 LA tribute band GayC/DC teamed up with indie rock duo Well Hung Heart on a fun collaboration during these Covid Times…a cover of the classic AC/DC song, 'It's a Long Way to the Top (If You Wanna' Rock 'n' Roll)'. Song and video are out this week and it's a cheeky way for LGBTQ+ fans of heavy metal to enjoy a blast from the past.
Seattle are fans of GayC/DC can look forward to a future visit from the Los Angeles based rockers headed vocalist Chris Freeman who is also a member of iconic queer rock band Pansy Division…they're scheduled to headline a show at Seattle's beloved rock 'n' roll dive bar/music venue El Corazon, 109 Eastlake Ave East on Saturday, March 19th…you can snag advanced tickets for that show, over HERE.
Meanwhile, enjoy more about this fun collab between GayC/DC and Well Hung Heart down below.
When Brian Welch, drummer for LA tribute act GayC/DC asked Greta Valenti of LA based Well Hung Heart what song would be fun to play if both bands were to perform together one day, neither of them was thinking that a global pandemic would be the match that lit the fire under their collective behinds to make that happen. "Greta and I were determined more than ever to do something," says Welch. "We talked about the gut punches both bands took and it made us think that the AC/DC song, 'It's a Long Way to the Top (If You Wanna' Rock 'n' Roll)' summed up what we had just been talking about." The video premieres on INSTINCT Magazine who call the track "a rocking, raunchy and just in general rude number."
While a combined live show was halted due to the COVID-19 pandemic, a virtual collaboration was inevitable. Eve though neither band had actually met in person yet, the conversation switched from sharing a stage to recording a song and video together in this new virtual world. A few months later in June 2020, the members of GayC/DC (vocalist Chris Freeman, guitarist Karl Rumpf, bassist Glen Pavan, and lead guitarist Steve McKnight along with Welch) convened to the band's rehearsal studio one by one, to record and film their parts in isolation. Freeman also sat in the producer's chair for the recording. Once their parts were tracked, the files were sent to Valenti and Well Hung Heart guitarist Robin Davey (also her husband) to add their vocals and guitars respectively, and Davey mixed the entire affair. 
ABOUT GayC/DC:

GayC/DC is the world's first and only all-gay tribute to the music of AC/DC! Founded by Chris Freeman (bass player from iconic queer punk band Pansy Division), the idea for GayC/DC came from bouncing around names for more tribute bands with gay members after he'd been playing with the Gay Gay's (a gay tribute to the Go Go's) for more than a decade. After the Gay Gay's went on hiatus, Freeman, along with two other members of the Gay Gay's, moved forward with forming a band that could put a gay spin on the testosterone-fueled music of AC/DC. Freeman began by recruiting lightning-speed guitarist, Steve McKnight (who had been in the melodic hardrock band Cry Wolf since the late '80s) after meeting him online and sharing similar musical tastes. Making up the rest of the band are Karl Rumpf on rhythm guitar (The Gay-Gay's, DART),drummer Brian Welch (The Gay-Gay's, The Shocker), and Glen Pavan (Best Revenge) and Freeman on vocals. Now in their eighth year as a band, the word of mouth has been intense, even scoring a "pick of the week" in LA Weekly as one of the top 20 bands in LA you must see. The band remains true to the music (working diligently to replicate the actual sound of AC/DC), while playing around with the lyrics and changing pronouns to suit the gay angle. Hence, "TNT" becomes "P-N-P" (a song about the "party-n-play" status some gay men post in their online sex ads), "Bad Boy Boogie" becomes "Gay Boy Boogie", and "Big Balls" needed … well, no changing at all! To say the band is off-the-hook live is an understatement. There is never a dull moment with all the costume changes and props being trotted out, all in the name of outrageous entertainment.
(Visited 9 times, 1 visits today)