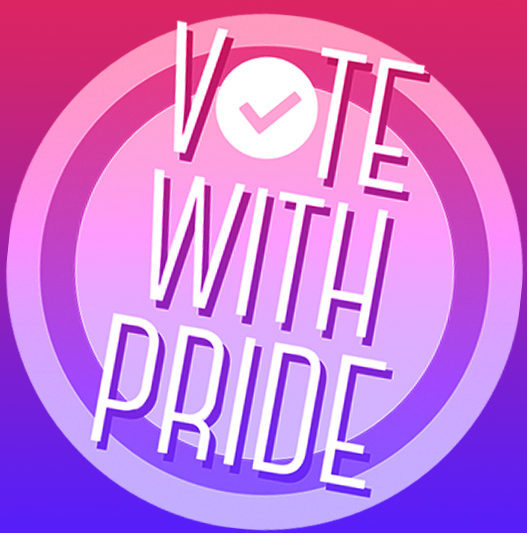 Seattle Pride announced last week they're returning with their VOTE WITH PRIDE campaign to encourage and grow LGBTQ+ voter registration and provide information on candidates in local elections which happen Tuesday, November 2nd.
They've even produced their own Seattle Pride Voter's Guide which lists all the local candidates and gives ratings on how they stand on LGBTQ issues. Go HERE to check that out.
More info:
"Vote with Pride" is Back for its Second Year as Seattle Pride Aims to Grow LGBTQIA+ Voter Registration and Participation
Campaign Runs Through Nov. 2nd with a Voter's Guide, Weekly Quizzes, and a Forum Event
SEATTLE – Oct. 13, 2021 – Seattle Pride'sVote with Pride campaign presented by Sealaska is back for its second year in an effort to grow LGBTQIA+ voter registration and participation in the upcoming general election.

"One of the most powerful ways we can positively impact our human rights is to vote, and to vote for candidates who support our community," said Seattle Pride Executive Director Krystal Marx. "Our human rights continue to be challenged, despite how far the LGBTQIA+ community has come. It's critical that we do the work today for a better future tomorrow."
Seattle Pride is also educating voters through the development of the Seattle Pride Voter's Guide, designed to help members of the LGBTQIA+ community determine which King County candidates align with their values. A number of the candidates featured in the digital guide will be available for community members to meet at the Vote with Pride Voter Extravaganza event. The Seattle Pride Voter's Guide is available at SeattlePride.org.  
"As a community, we can't afford to let others make decisions for us when it comes to our basic human rights," added Marx. "Vote with Pride including the Voter Extravaganza and the Voter's Guide are going to make it so much easier for our community to make educated voting decisions."

According to the Human Rights Campaign, the LGBTQIA+ community votes at a higher rate than the general public. Unfortunately one in five LGBTQIA+ adults is not currently registered to vote according to a national Williams Institute and Ipsos/Reuters poll – which Seattle Pride is attempting to improve with its voter registration push as part of its Vote with Pride campaign.

"More than five percent of adults in the state are LGBTQIA+. Our collective voice can be quite powerful so it's important that we get as many within our community as possible to register and make educated voting decisions," added Marx.

Throughout the month long Vote with Pride campaign, the public is invited to submit their election-related efforts online at SeattlePride.org for a chance to win pair of round-trip Alaska Airlines tickets to be awarded each week, plus a bonus drawing which also includes a full suite of Seattle Pride swag and Seattle Pride partner items. To enter, people simply complete actions within two categories – voter education and get out the vote. Each question, or task, will be worth points – the more points a participant accumulates during the week, the more times they are entered into the week's prize drawing to be announced at the end of the campaign.
About Seattle Pride/Seattle Out & Proud Foundation
Seattle Pride is a 501c(4) not-for-profit organization which produces the Seattle Pride Parade, Seattle Pride in the Park and other pride-related events and promotions, as well as, year-round statewide advocacy in support of diversity, inclusivity, and equitable human rights for all.
The Seattle Out & Proud Foundation is Seattle Pride's 501c(3) non-profit foundation which provides grants and sponsorship support to community-based LGBTQIA+ organizations statewide, educates members of the public about the LGBTQIA+ community and the rights of its members, to eliminate discrimination against and further the civil rights of members of the LGBTQIA+ community, and to connect, inspire and strengthen the LGBTQIA+ community by promoting the arts and supporting leadership development.
(Visited 1 times, 1 visits today)