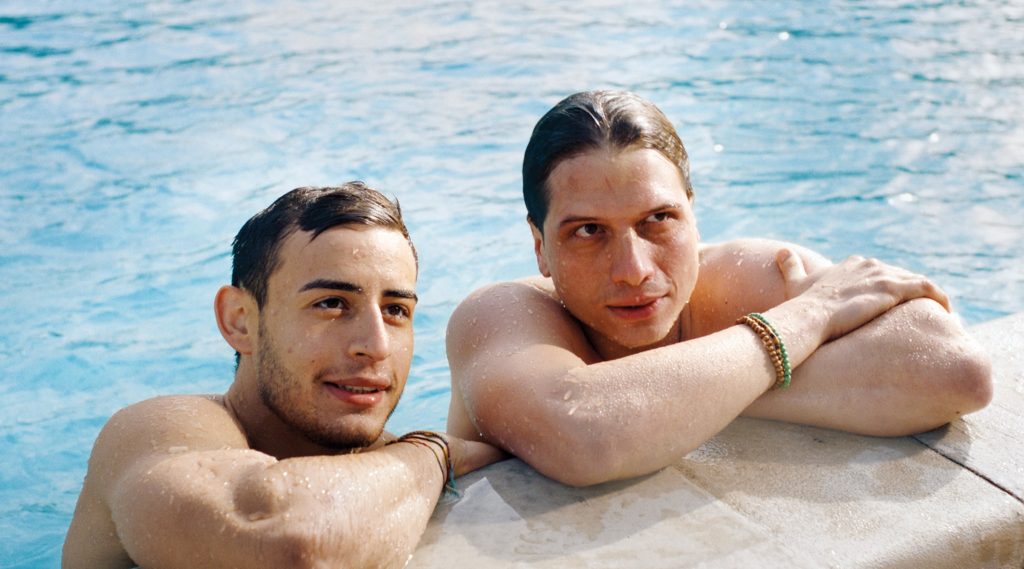 Looking for films to check out at this year's Seattle Queer Film Festival where you have the option of seeing the films in-person at area cinemas OR at home from the safety of your lumpy old IKEA couch? Here's the line-up for Wednesday and Thursday, October 20th and 21st. Note that Wednesday's screenings are at Northwest Film Forum AND at the Ark Lodge Cinema in Columbia City, so folks living out that way have an option to enjoy films close to where they live!
There are films for EVERYONE in the queer alphabet soup and you can choose from documentaries to narrative features!
For the full schedule, check out the SQFF website!
AND, don't forget you can still snatch tix to the Closing Night Film and Party, FANNY: THE RIGHT TO ROCK, happening Saturday, October 23 at the Egyptian! (Even though the festival actually closes on Sunday, the 24th…no, I don't understand it either….)
Philippe Talavera; 2020; Namibia; 61 min.George is an openly gay insurance broker with a supportive family and group of friends. But he's also in search of a partner. Then he meets Simeon, a closeted kapana (barbecued meat) seller who can't imagine being happy in a relationship with a man in a country where being gay is forbidden. Root for George and Simeon as they navigate their feelings in this romantic drama—the first positive (and award-winning) gay film out of Namibia.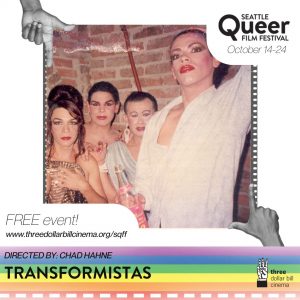 Chad Hahne; 2020; Cuba; 84 min.;in Spanish with English subtitles The world of drag performers, trans people, and the broader queer community in Cuba is chronicled in this underground documentary, secretly filmed on an iPhone with the full consent of its subjects but without permission from the Cuban government. These intimate stories stretch back generations, showing the struggles that queer people have faced in Cuba and spotlighting the present-day fight for equal rights. Filmmaker Hahne (HOW TO SURVIVE A PLAGUE) has sensitively captured moments of sacrifice, friendship and the power of art to transform lives, while also celebrating how far the Cuban government and the island's society have come in supporting LGBTQ rights.
Zaida Bergroth; 2020; Finland; 150 min.;in Swedish and Finnish with English subtitlesIn her native Finland and around the world, painter and author Tove Jansson (1914–2001) was beloved for her children's books about a family of magical, hippopotamus-like creatures called "the Moomins." This biopic zeroes in on a tumultuous decade in her life. After World War II ends, Tove finds herself at a pinnacle of artistic success, while also experiencing turmoil in her personal life as she pursues passionate and intimate relationships with a man and a woman: Atos Wirtanen, a left-wing member of the Finnish parliament, already married; and theatrical director Vivica Bandler, also married. The critically acclaimed TOVE was selected as the Finnish entry for Best International Feature at the 93rd Academy Awards.
Bo McGuire; 2020; USA; 93 min. Filmmaker Bo McGuire taps into some fundamental truths about family and acceptance as he tells the wildly entertaining story of his grandmother's death and the fight that ensued over what she left behind without a will. This fever dream of recreated memories that have altered over time showcases the beauty and frustration of the South. Working through his own grief over the loss of his beloved "nanny," McGuire (a queer poet from Alabama) serves as our unreliable narrator who blurs the line between fantasy and reality. Winner of Best Documentary at the Tribeca Film Festival, SOCKS ON FIRE is shellacked with both joy and pain. It's a love letter to a woman, to a family, and to an often-misrepresented community.
Gitta Gsell; 2020; Switzerland; 98 min.; in Swiss, German, and Turkish with English subtitles Beyto, the only son of a Turkish immigrant family that owns a kebab restaurant where the community gathers, is a talented swimmer who dreams of a different life than his parents. He's gay and in love with his coach Mike. His family discovers his secret and decides to ship him off to Turkey on false pretenses, where he will be set up to marry Seher, his childhood best friend. Suddenly, Beyto finds himself in a disruptive love triangle, attempting to please all parties involved, while trying to keep his deep love for Mike aflame. This is a gorgeous and sensual story about family, tradition, and love in its many forms.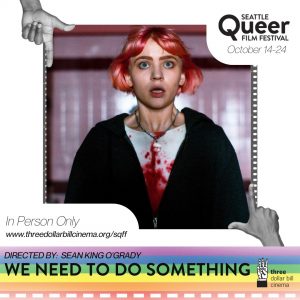 Sean King O'Grady; 2021; USA; 97 min.Melissa and her family seek shelter from a storm. Trapped in their bathroom with no sign of rescue, hours turn to days as Melissa comes to realize that she and her new girlfriend Amy might have something to do with the horrors that threaten to tear apart her family—and the entire world. Based on the novella of the same name and starring Vinessa Shaw (HOCUS POCUS, EYES WIDE SHUT), Pat Healy (THE POST), and Sierra McCormick (American Horror Stories), this claustrophobic thriller will have you on the edge of your seat right to the bloody end!
IN PERSON SCREENING ONLY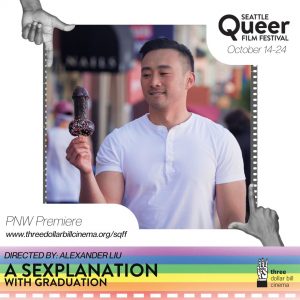 Alexander Liu; 2020; USA; 76 min. Growing up, filmmaker Alexander Liu couldn't quite understand his or anyone else's sexuality. His parents never talked about the subject, and the limited information he received in school focused on disease, pregnancy, and abstinence, rather than the real pleasures that he discovered later on. In A SEXPLANATION, Liu goes on a fun-filled educational journey to expose the failures of the sex education he received, receiving more comprehensive instruction as a thirtysomething adult, no matter how awkward it gets. And it does get wonderfully awkward! Through honest conversations with scientists, educators, and even his parents, Liu finally discovers the naked truths and hard facts needed to strip away the shame for a healthier, more rewarding sex life.
Anastacia-Reneé; 2019; USA; 120 min.
Have you witnessed someone being discriminated against, treated with total disrespect, or blatantly ignored? Do you feel overwhelmed or guilty about not knowing how to help? In this powerful workshop, you will learn techniques and gain the tools needed to become an effective ally to and advocate for those who are targeted because of their race or anyone being treated unfairly or discriminated against, through interactive exercises and discussion. Be sure to bring a notebook!
Anastacia-Reneé, who will lead the Zoom workshop, is an award-winning, multigenre writer, educator, and interdisciplinary artist. She served as the Seattle Civic Poet from 2017 to 2019 and the 2015–17 poet-in-residence at Hugo House. The author of five books, she also teaches poetry and workshops at Hugo House and local libraries, high schools, and universities. Her film ALICE IN PARTS will be playing alongside ALL BOYS AREN'T BLUE at SQFF 2021.
Erin Granat & Machete Bang Bang; 2020; USA; 102 min.
Chosen family is everything! Today is the last day of life for Jimmy (James Carrozo). With his Alzheimer's disease worsening, Jimmy has decided to take his own life through medical aid in dying but he plans to die the way he has always lived: with intention, humor, and zest. To this end, Jimmy will show the people around him—an obituary writer, his death doula, his estranged brother, his caretaker, a surreal being, and the guests invited to his fabulous funeral—that perhaps the art of dying is actually the art of living. MOON MANOR puts the "fun" in funeral while asking deep questions about queer lives and legacies.
Ruth Caudeli; 2021; Colombia; 84 min.; in Spanish with English subtitles
In this improvised drama consisting entirely of unscripted dialogue, five friends gather to celebrate the homecoming of one of their number—Marce, who vanished without a word two months ago. As the women struggle with whether to believe Marce's explanation for her disappearance and sudden return, director Ruth Caudeli replays the dinner party, retelling the scene anew each time from a different character's perspective. This unique structure gives each of the five segments its own "leading lady," allowing the audience to experience how the women remember events differently and learn the secrets that each of them is keeping from the others. This is a masterful exploration of the complexity and intimacy of queer friendship and love between women.
(Visited 1 times, 1 visits today)