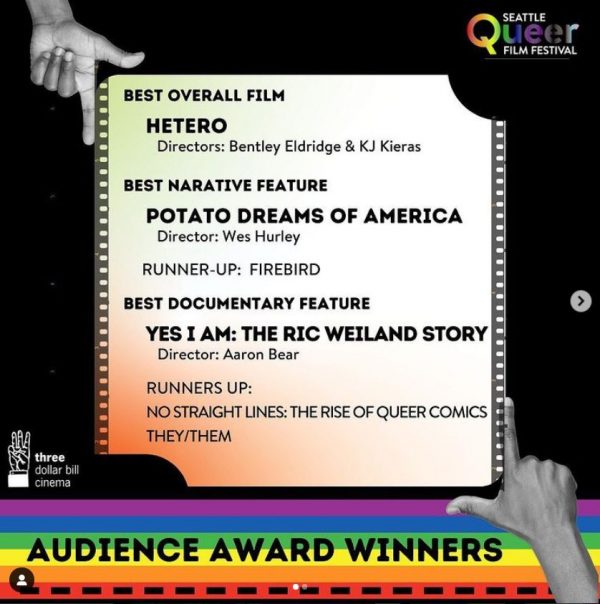 Three Dollar Bill Cinema announced both the Jury Awards and the Audience Award winners for this year's Seattle Queer Film Festival which ran from October 14th through the 24th at various venues around the city.
The Jury awarded "Bliss" as Best Narrative Feature Film with "Moon Manor" cited as an Honorable Mention. "Gemmel & Tim" won for Best Documentary Feature while "Into Light" won as Best Short Film. "Sunday Dinner" won for Most Innovative Short.
The Audience Awards Via Three Dollar Bill Cinema:
The votes have been tallied from both your online ballots and your CineSend rankings, and these are the films you thought were the cream of the crop. While all of our films are winners to us, these films were your standouts…

Audience Choice Best Overall Film:
HETERO
Directed by Bentley Eldridge & KJ Kieras

Audience Choice Best Narrative Feature:
POTATO DREAMS OF AMERICA
Directed by Wes Hurley
Runner-Up:
FIREBIRD

Audience Choice Best Documentary Feature:
YES I AM: THE RIC WEILAND STORY
Directed by Aaron Bear
Runners-Up:
NO STRAIGHT LINES: THE RISE OF QUEER COMICS, THEY/THEM

Audience Choice Best Overall Short:
BOY CULTURE EPISODE 1
Directed by Q. Allan Brocka

Audience choice Best Gay Short:
FLAMENCO QUEER
Directed by Frederick Bernas & Ana Gonzalez

Audience Choice Best Lesbian Short:
NOOR & LAYLA
Directed By Fawzia Mirza

Audience Choice Best Trans Short:
LUV U CUZ
Directed by Eric Pumphrey
The locally made POTATO DREAMS OF AMERICA from director Wes Hurley and YES I AM: THE RIC WEILAND STORY from Aaron Bear were both audience favorites.
Several of the award winners will be encored but only online from November 5th to the 8th.
BEST OF THE FEST ENCORE FILMS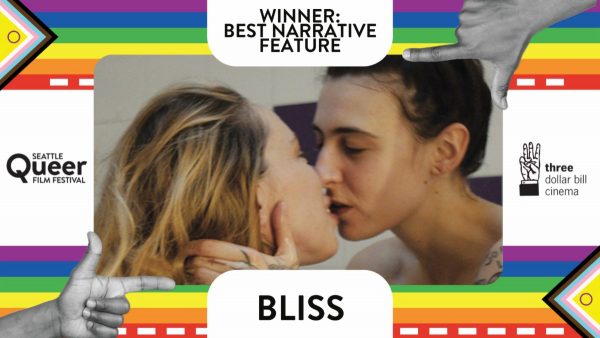 BLISS
FROM THE JURY:Bliss was an authentic and gentle peek into the lives of two women and a relationship that grabbed us with its genuine performances and solid craftsmanship throughout. By the end we felt like I'd walked with them through the highs and lows and found home on the other side. It brings authenticity through two winning lead performances and incredibly confident, immersive form towards its subjects.

CONTENT WARNINGS: VULGAR LANGUAGE, IMPLIED VIOLENCE, NUDITY, EXPLICIT SEXUAL SITUATIONS, DRUG USE
GEMMEL & TIM
FROM THE JURY:Gemmel & Tim is a unique and powerful film about the horrific murders of Black queer men, Gemmel Moore and Timothy Dean. This film goes beyond the usual true crime genre in the ways it truly humanizes and helps viewers get to know not only the victims, but their communities and their families through their struggle to hold the murderer, negligent politicians, and law enforcement accountable.
This important story brings light to not only the tragic deaths of Gemmel Moore and Timothy Dean, but to the value of their lives in a system that does not value Black queer lives.
CONTENT WARNINGS: IMPLIED VIOLENCE, DISCUSSION OF SEXUAL VIOLENCE, DISCUSSION OF RACIAL VIOLENCE

TICKETS
NO STRAIGHT LINES:THE RISE OF QUEER COMICS
Audience & Staff Favorite

TICKETS
SWEETHEART
Audience & Staff Favorite
(Visited 5 times, 1 visits today)