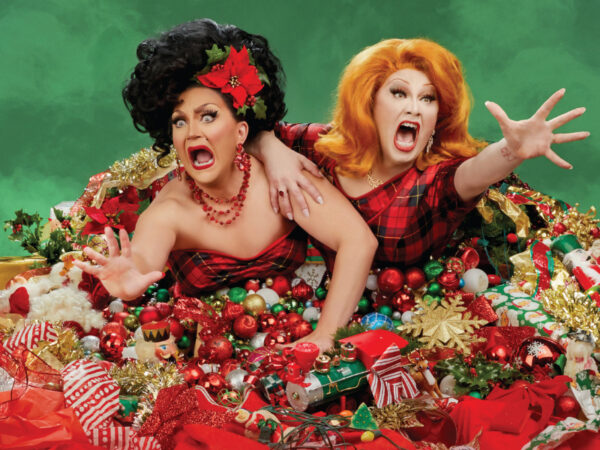 Some of us are still Nervous Nellies when it comes to venturing too far out of our Covid Comfort Zone, aka, our over priced apartments we can barely afford. Even with multiple vaccinations coursing through our veins, we're not ready to brave crowded theaters and all that BREATHING from other audience members (and coughing, sneezing, gasping and yes, I will say it, FARTING) not to mention all those performers spraying their spittle all over us. I mean, most of the performers are probably drunk and that spittle is infused with bourbon, gin, vodka or Robitussin but still…

Scary.
Fortunately, there are Smart Cookie performers out there who realize there are DOLLARS to be made from the huge agoraphobic/germaphobic community so they're wisely offering up online options to view their delightful holiday shows.
Now, if you're a brave soul you might try and snag a ticket to go see the lovely Jinkx Monsoon and her cackling co-hort Ms Ben DeLa Creme when they bring their big touring holiday show to Seattle. "THE RETURN OF THE JINKX & DELA HOLIDAY SHOW, LIVE!" hits town from December 21 – 24, then takes Xmas Day off and returns for two shows on December 26, 2021 all at the Neptune Theatre in Seattle's delightfully and ever so slightly sketchy University District. Tickets are almost gone for the four shows before Christmas Day and there's just a handful of tickets left for the two shows on the Day After Xmas (or, Boxing Day if you're British, Part of the Commonwealth, or just Anglo-Pretentious). Go grab one of those remaining tickets over HERE!
If you're skeered to go see them live, then you can see a streaming version of their show this Thursday, December 9th live from Chicago's Thalia Hall. You can snag a pass to the livestream right HERE!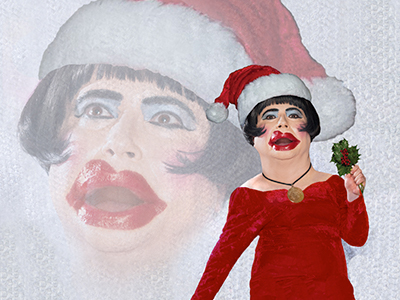 Another Seattle demi-legend, and one who actually still lives here and didn't sneak away to live in other, less beloved cities like Ms Monsoon and Ms DeLaCreme did, the one and only DINA MARTINA is also of course back on stage for her annual Xmas Xtravaganza and this year she's doing only TWO shows but at a huge venue…the darling Dina will be trodding the boards at Seattle's Moore Theatre in the ever so slightly sketchy and somewhat depressed environs of downtown Seattle.
Good seats are pretty much all gone for both shows but if you're good with high altitudes, you can snag $25 seats in the 2nd balcony at The Moore over HERE!
Dina is also a frugal businesswoman (it's all those summers spent among those penny pinching New England Homosteaders in the wilds of Provincetown…) and she's also offering up a chance to see her online. Granted, it's a rerun…her Covid induced taping of her holiday show from 2020 but if you missed that chance to see it last year or don't want to venture out THIS year, then here is your big opportunity!
BACK BY POPULAR DEMAND!
DINA'S CHRISTMAS SPECIAL THAT SO MANY MISSED IN 2020 IS BACK FOR AN ENCORE PRESENTATION!
You'll have a 24 hour window to watch it starting at 9am PDT on the streaming date.
Age restrictions: All Ages.
BUY TICKETS
(Visited 10 times, 1 visits today)