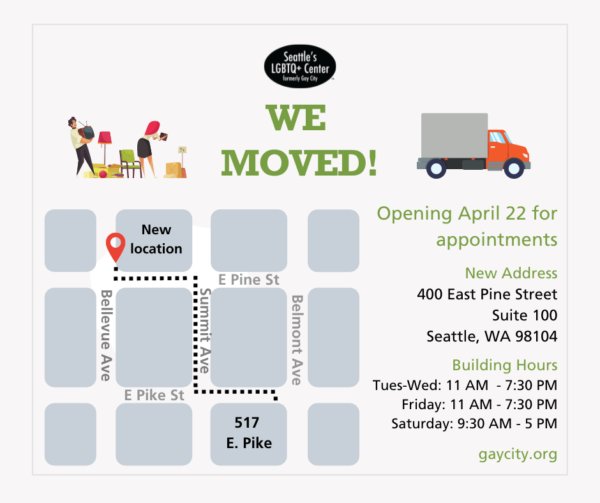 The organization formerly known as Gay City has been making BIG life changes in the last few months…they lost their old home on Pike Street and their longtime executive director Fred Swanson announced his resignation after many years of service to the non-profit which started in 1995 as the "Gay Men's Health Project" as a community resource primarily for gay men in the Age of HIV/AIDS.
As treatments for HIV/AIDS improved over the years, the group changed with the times as it adopted a new name, Gay City, and began a broader variety of programs that still focused on community health (and particularly sexual health for men) but also programs for other health concerns as well as branching into arts and cultural events as well. After the end of the last version of a Seattle LGBT Center, Gay City assumed many of those responsibilities including providing Resource and Referral help as well as taking over the LGBTQ Library.
That brings us roughly to today and their announcement that they had completed their move into their new home at 400 East Pine Street, just a couple blocks from their previous home, and were ready to see clients in their new wellness center, as well as "an embedded pharmacy partner for in-house treatment options, a dedicated LGBTQ Youth space, the reopening of our LGBTQ Library, enhanced resource referral, and more."
But, perhaps their biggest news is announcing a name change from "Gay City: Seattle's LGBTQ Center" to "Seattle's LGBTQ+ Center" In their statement about the decision, they explained the reasons behind the name change:
"We are incredibly proud of the work we've done over the past 27 years, and we also recognize that our services have not always been inclusive for everyone in LGBTQ+ communities. This name change reflects how our work has shifted over the past few years, and we hope that this change helps make everyone feel more welcome. This new LGBTQ+ Center is for everyone… You can expect to start seeing our new logo in more and more places as we ease into our name change leading up to our June open house
They also encourage the community to check out all their services and the new facility:
This is just the beginning of a new chapter for Seattle's LGBTQ+ Center, and we hope you're a part of it, whether that's utilizing our services, volunteering (stay tuned for updates on opportunities; you can subscribe to the volunteer newsletter here), joining the Board of Directors, donating, or just stopping by every once in a while to hang out.
(Visited 2 times, 1 visits today)