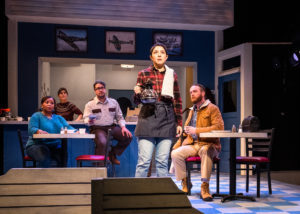 Spitfire Grill is a feel-good musical. It's a little schmaltzy with heart-tuggy, yearning songs (think Judy Garland singing Somewhere Over the Rainbow only not quite that classical a song) but ultimately it's also accessible and fun and ends on a note that you can walk out of the theater feeling satisfied at the journey.
It's a natural for Taproot. They've done it before, in 2003, when it was newer. But it hasn't lost its sweetness or appeal in ensuing years. A young woman, Percy (Sarah Garcia) who has nowhere to connect to after five years in prison has circled a tiny article about Gilead, Wisconsin, and gets on a bus to a place she hopes will be all that she dreamed. She's guided to the Spitfire, where there's a room to stay and a job helping out.
Of course, the curmudgeonly proprietor, Hannah (Pam Nolte) warms to Percy over time. Of course the townies (Effy played by Marlette Buchanan, Caleb played by Brian Pucheu, and the Sheriff played by Fune Tautala) are suspicious, but get used to Percy. Caleb's wife Shelby (Kelly Karcher) comes to help at the Grill – against Caleb's wishes – when Hannah trips and breaks her leg.
When Percy finds out Hannah's been trying to sell the Grill for years, she comes up with a raffle where people can send $100 and an essay about why they should "win" the Grill. Somehow, her advertisement finds a viral audience and they're flooded with raffle entries. The town itself even gets some recognition and tourists begin to come. Suddenly, this downtrodden little town is feeling spiffy. And there's a small subplot mystery about Hannah's son (played by Chip Wood).
It's a lovely cast. The newcomer, Sarah Garcia, to our fair city makes quite a terrific impression. There's something so naturally appealing in her as an actress (that can't be taught) that draws your attention. Since she's on stage almost the whole time, she "makes" the play. And when she and Karcher sing, their voices blend beautifully.
So… go and have a good time, especially if you really need a break from the horrid world events and want to participate in the collective fantasy at Taproot.
(Visited 54 times, 1 visits today)