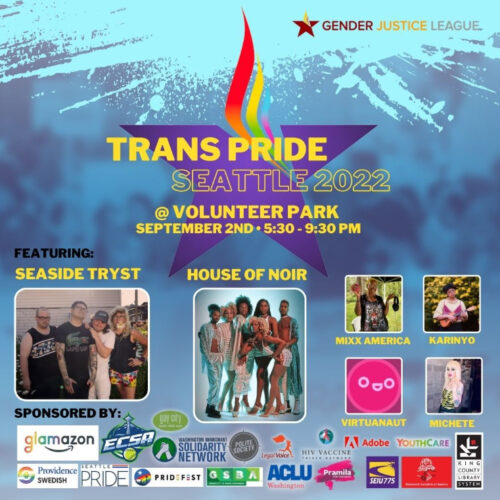 Gender Justice League made the decision to move their Trans Pride Festival away from the super busy traditional Seattle Pride weekend at the end of June and now they're ready to debut their very special standalone showcase this Friday, September 2nd from 5:30pm to 9:30pm.
There's also a change of venue from previous years with the event moving to Capitol Hill's Volunteer Park and away from Cal Anderson Park. Trans Pride 2022 will take place in the usual "festival" location in Volunteer Park in the meadow in front of the new stage area.
Talent being showcased on their stage this year include Seaside Tryst, House of Noir, Mixx America, Karinyo, Virtuanaut, Michete and more!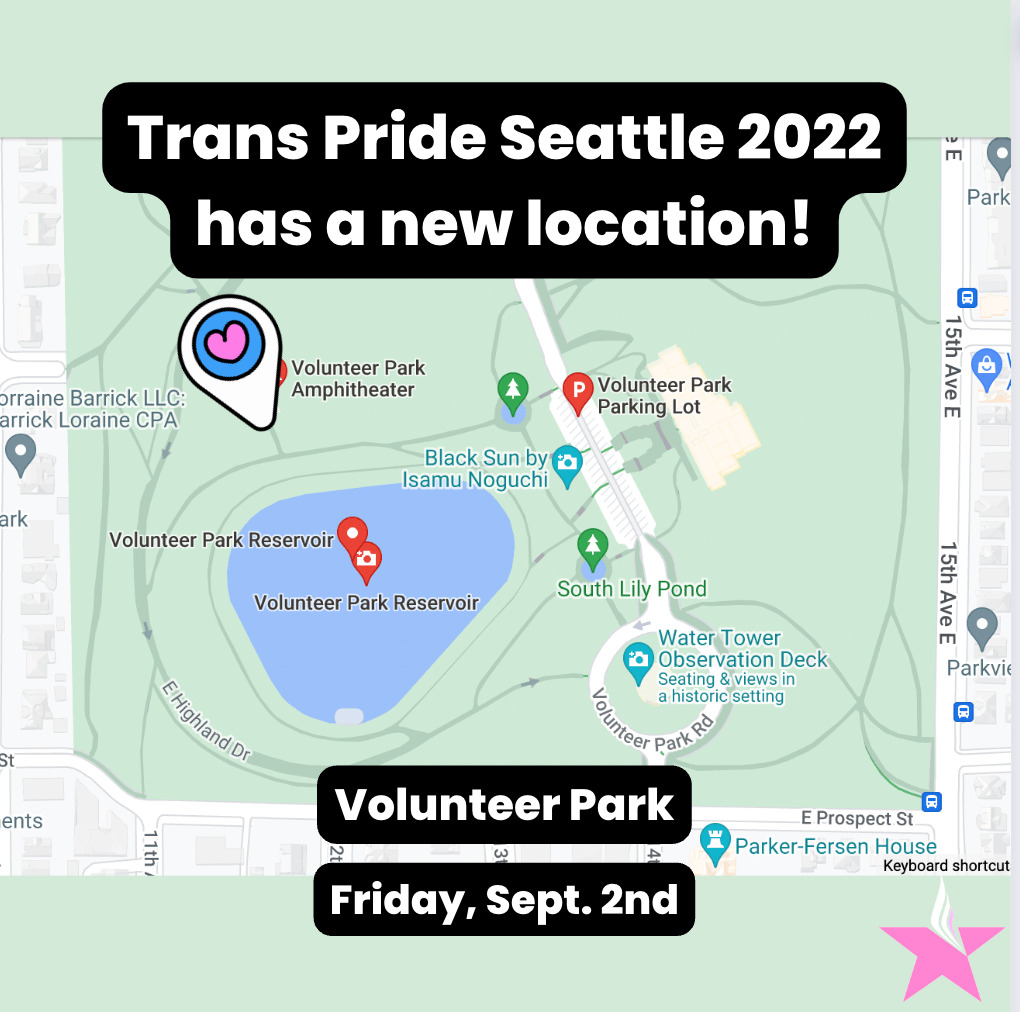 More info:
Trans Pride Seattle is back in-person! After a difficult few years without in-person community spaces, we are so excited to see your (masked) faces again. This year will be a scaled-down, but mighty Trans Pride celebration!
ABOUT TRANS PRIDE:
Trans Pride Seattle is an annual event organized by Gender Justice League in association with local organizations who support the Seattle-area trans and gender diverse community. Trans Pride Seattle is open to everyone who believes that trans and gender diverse people deserve to live our lives free from violence, discrimination, stigmatization, poverty, hatred, rejection, medical abuse and neglect, and mental pathologization. We encourage the participation of groups, organizations, and individualsin the trans and gender diverse community and those offering services directly to our community.The goal of Trans Pride Seattle is to increase the strength of the trans and gender diverse community and our allies—both within and beyond Seattle—through increased visibility, connection, love, and the celebration of our lives.
COVID SAFETY & MASKING REQUIREMENT:
Masks will be mandatory: To make sure our event is accessible for all, and to reduce the spread of COVID-19, all attendees are asked to stay masked at Trans Pride. We will have masks available for those with limited access to N95/K95 masks. (If attendees are able to bring extra masks to contribute, we would be grateful and appreciative!)Please test before attending, and stay home if you test positive. We will have a limited supply of rapid tests available for attendees with limited access to them. We also recognize the limitations of rapid testing, and encourage participants to get PCR tests beforehand if possible.
MONKEYPOX SAFETY:
To limit the spread of monkeypox in our community, we request that people familiarize themselves with how the virus spreads and the risks associated with exposed skin and close skin-to-skin contact in community spaces.We can help keep each other safe from both monkeypox and COVID by maintaining personal space, wearing an N95/KN95 mask, wearing clothing that covers a majority of our skin, and limiting close intimate contact with other people's exposed skin.For more information about monkeypox and vaccine availability, please see King County Public Health's page at tiny.cc/KCMINFO
SEATING, ASL, & WHEELCHAIR ACCESS INFO:
Limited seating will be available in front of the stage for those who need it.ASL interpreters will be present for the stage program and performances.Wheelchair access: Volunteer park is on a slight incline. For a map of wheelchair-accessible entrances and exits, please visit transprideseattle.org/accessibility.
SPOONS TENT:
The Spoons Tent is a scent-free, low-sensory space located away from the stage. Drop by to relax and recharge with snacks, water, and stim toys (disinfected between use), or to chat with one of our volunteers experienced in providing emotional and mental health support.We ask that visitors please stay masked, sanitize before entering and leaving the tent, try to stay 6 feet away from others, and keep conversations at a low volume. (In order to limit the spread of monkeypox, we will not have weighted blankets, as in years past).
For more information, visit transprideseattle.org
There will also be an After Party event at The Wildrose from 11pm to 2am. Check out the poster below for more info.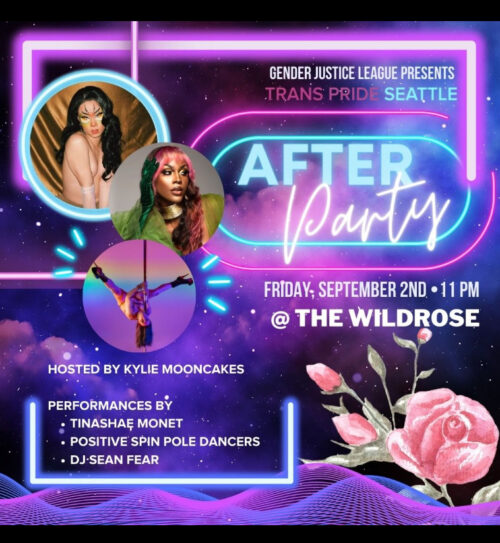 (Visited 15 times, 1 visits today)