We're soooooo very excited that drag superstar LATRICE ROYALE is doing her first solo, national theater tour in 2023. The "Large and In Charge" star of RuPaul's Drag Race Season 4 has become an international drag legend with performances globally including a run on London's West End and in Las Vegas. She's been to Seattle many times, usually with R Place/The Comeback as her hometown venue of choice but now she's expanding her horizons with a big tour to debut in Portland Oregon on April 5th before heading to Seattle Theatre Group's Neptune Theatre in the University District on April 7, 2023.
Latrice made the announcement today via social media:
ATTENTION ROYALE COURT!!! This is one of the most exciting and important announcements of my entire career. This April I will embark on my FIRST Solo National TOUR!!! "Life Goes On" will be a beautiful continuation of my show "Here's to Life" and I can't wait to share it with you all!!! Tell me below what city you're coming to see me in, and tag a friend or two. Tickets are going on sale Thursday Dec 15 @ 10 AM Pacific Time. Make sure to get yours. Thanks to @artdefashion for the lovely new gown, @edwardsizzahands2.0 for the hair, and @marxxproductions and @retoucher_ryan for the imagery. What you want, baby I got it. L-A-T-R-I-C-E!!!!!
Latrice's adorably talented piano playing husband Christopher Hamblin will also join her on stage.
According to the website, "local pre-sale tickets" go on sale this Wednesday, December 14th at 10am with general public tickets going on sale on Thursday, December 15th at 10am. We're not sure if you need a code for those pre-sale tickets but go here to grab them: https://www.stgpresents.org/calendar/13921/latrice-royale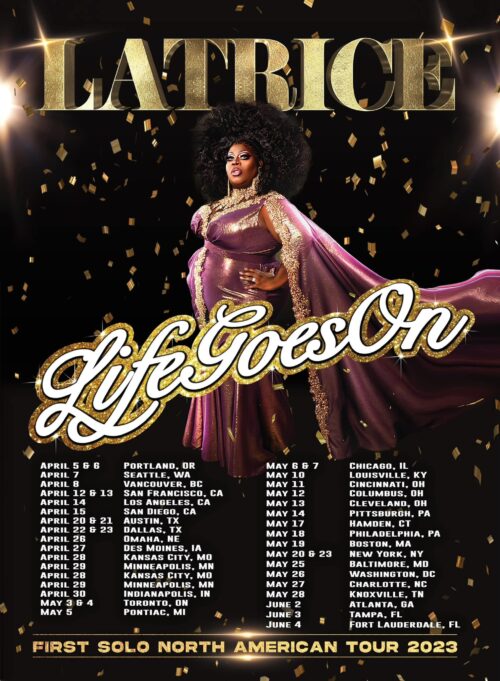 (Visited 65 times, 1 visits today)