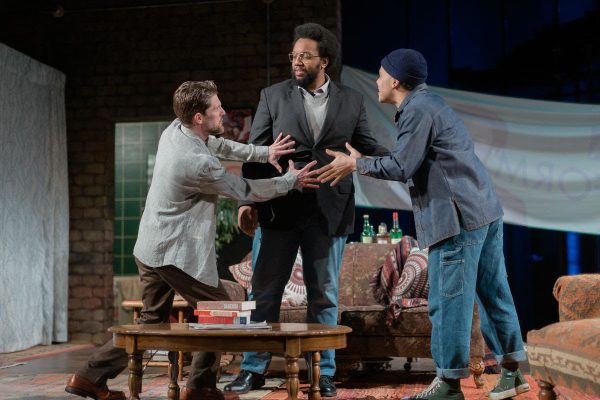 It's a hot year for acclaimed playwright Lorraine Hansberry and her play, The Sign in Sidney Brustein's Window. The writer, best known for her now classic play A Raisin in the Sun, died tragically young, aged 34 from pancreatic cancer, in 1965. After the huge stage success of "Raisin" in 1959 (followed by its film adaptation), Hansberry was only able to finish "Sidney Brustein's Window" and see it produced on Broadway before she passed away.
While A Raisin in the Sun centered on the story of one Black family's attempts to buy their first home in a restricted neighborhood, The Sign in Sidney Brustein's Window featured an integrated cast of actors and dealt with a variety of issues include race but also sexuality and self-expression for non-conformist artists. And, while "Raisin" was based on her own family's real life struggles to buy a home in 1940, "Sidney Brustein" dealt with real experiences from Hansberry's life as a bisexual woman and writer in the late 50s/early 1960s in New York City.
The play was a modest hit on its original run in 1964/65 with a cast that included beloved actresses Rita Moreno and Alice Ghostley, best known for her television work on "Bewitched" and "Designing Women". Ghostley was the only member of the production to be nominated and eventually win a Tony Award for her work in that production.
But, the show has lived on with further productions over the years by theater companies eager to experience more work from Hansberry and her unique gift with language and beguiling characters. Two theater companies this winter are reviving the play with an off Broadway production just opening at the Brooklyn Academy of Music this past week starring gorgeous famous actors Oscar Isaac and Rachel Brosnahan.
And, in Seattle, our own Intiman Theatre is producing the area premiere of the nearly 60 year old play in a production that opens this week at their homebase at the Erickson Theatre on Capitol Hill. It's a co-production with local theater company The Williams Project and the play is being directed by that company's artistic director/founder Ryan Guzzo Purcell.
But, what is "The Sign in Sidney Brustein's Window" about? Via the Intiman website:
It's Greenwich Village in 1964, and Sidney Brustein's living room is the place to be. The neighborhood bohemians gather here to drink, listen to records, and argue about politics, art, and sex. Soon, Sidney stumbles into owning a local newspaper and the arguments become more heated. With a marriage on the rocks, no money, and friends advocating for different causes, this aging idealist is forced to decide what he truly believes. Brimming with humor and pulling no punches, The Sign in Sidney Brustein's Window asks us all: how much are you willing to sacrifice to live your ideals? 
So…it's about arty farty folk (some of them gay) and their trials and tribulations in the early/mid 1960s. Expect a lot of angst and humor!
Tickets for "The Sign in Sidney Brustein's Window" (in Seattle) can be found at: https://www.intiman.org/sign/
(Visited 43 times, 1 visits today)