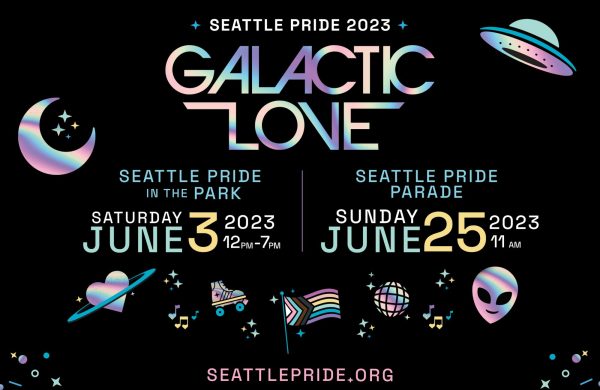 EVERYTHING you need/want to know about Seattle Pride's events for Seattle's LGBTQ+ Pride celebrations for this coming June including info on Seattle Pride in the Park happening Saturday, June 3rd at Volunteer Park on Capitol Hill. But, most of the intel is about the annual parade in downtown Seattle happening on Sunday, June 25th including the release of the grand marshals for Pride 2023 and this year's theme: "Galactic Love".
Not included: info on Seattle PrideFest's plans for June. Remember, Seattle is the super special city where we have TWO completely separate groups producing our big annual Pride events! There's Seattle Pride/Seatte Out & Proud who do the Parade and the early in June park event, and then there's Seattle PrideFest who produce the two big festivals, the Saturday event on Capitol Hill's main drag Broadway and in Cal Anderson Park and the main big festival on Pride Sunday after the parade at Seattle Center.
Yes, it's needlessly confusing.
As of press time, Seattle PrideFest hasn't sent out a press release for their plans for Seattle Pride Weekend 2023.
While we wait, here's the info for the parade and Pride in the Park!
Via press release:
Galactic Love Announced as Seattle Pride Month Theme for Seattle Pride Parade and Seattle Pride in the Park Festival
Musical Performers, Announcers, Grand Marshals, and Sponsors are announced
SEATTLE—Seattle Pride® brings the party with the Seattle Pride in the Park festival and Seattle Pride Parade during the 49th annual Pride Month celebrations. This year's theme Galactic Love, is all about celebrating the LGBTQIA+ community as one big, beautiful, extravagant galaxy.
The month kicks off at Volunteer Park on Saturday, June 3 at noon with the annual Seattle Pride in the Park festival – Seattle Pride's celebration of queer arts, music, performance and culture. The free event hosted by drag artists Ceasar Hart, Versace Doll, and Monday Mourning will feature a can't-miss lineup of LGBTQIA+ performances on two stages: one featuring live performances, as well as a new dance-focused stage curated by Supernova.
Headlining this year's Seattle Pride in the Park mainstage is popular queer Seattle rock band Moon Palace with additional musical performances across both stages featuring CarLarans, Brittany Davis, J Mase III, SuperCoze, Stephanie Anne Johnson, Kween Kaysh and more. Drag performances will take place throughout the event featuring Charli Foxtail, Hot Pink Shade, HoochiePapa, LüChi and more. Families and kids can join in on the fun at Drag Queen Storytime with Cookie Couture followed by a special Disney-themed performance by The Supertonics, an ensemble of Seattle Men's Chorus and Seattle Women's Chorus, and at a special youth-focused area developed by queer youth. There will also be alcohol gardens for those 21 years of age and older, food trucks, community booths, the Milky Way Marketplace featuring queer vendors, a Neurodiverse Nebula for low-sensory decompression space, and more.
The June festivities conclude with the Seattle Pride Parade on Sunday, June 25 at 11 a.m. along Fourth Avenue in downtown Seattle (between 4th & Pike Street and 2nd & Denny Way). The parade will feature floats, musical performances, and rainbow costumes galore among some of Seattle's most beloved community groups, civic leaders, brands, and businesses.
The parade route will feature food trucks for all and alcohol gardens for attendees ages 21 and up, including an enhanced Westlake alcohol garden with front-row views of the Parade route. Seattle Pride is about inclusiveness – so all ages and all identities are invited to join in and watch the parade. Grandstand seating along the parade route is available for purchase here.
Festivities on parade day will kick off with pre-show performances at 10 a.m. at Westlake Park featuring Rainbow City Marching Band, Hailey Tayathy, and more. The Seattle Pride Parade will then be led by Grand Marshals Ijeoma Oluo, Lavender Rights Project, and Mx. Pucks A'Plenty.
Along the parade route some of Seattle's favorite drag artists will serve as announcers including Ceasar Hart and Versace Doll at Westlake & Pine St; DonnaTella Howe and Kylie Mooncakes at 4th & Lenora St; and Sable Jones St. James and Goddess Briq House at 4th & Denny Way.
For those unable to attend in person, the first two hours of the parade will livestream on kiro7.com and on the KIRO 7 News apps for phone and TV. Plus, tune in to KIRO 7 on Sunday, June 25th to catch Seattle Pride Parade coverage on KIRO 7 News at 11 p.m., followed by a half-hour Seattle Pride special at 11:30 p.m.
For a complete list of Pride Month events, updated as new events are announced, visit SeattlePride.org/Events or pick up a free Official Seattle Pride Guide available throughout the greater Seattle area beginning in early June.
Accessibility accommodations such as priority seating, ASL interpreters, ADA restrooms, and designated assistants to support individuals in accessing food and beverages will all be available at both Seattle Pride in the Park and the Seattle Pride Parade. An accessibility guide for both events will be available on SeattlePride.org.
Seattle Pride invites those who want to make a difference, make new connections, and be a part of Pride to join as a volunteer. Visit SeattlePride.org/Volunteer to learn more and sign-up.
(Visited 367 times, 1 visits today)