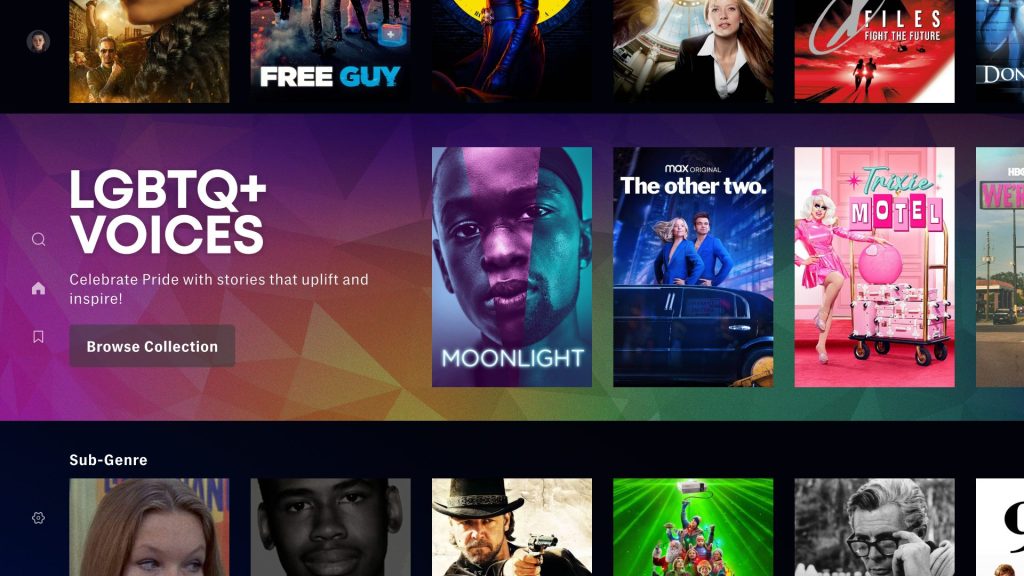 Max, the cable channel known as HBO for 45 years who have oddly re-branded as Max for reasons no one really understands, is of course jumping on the Pride bandwagon with an announcement about all sorts of LGBTQ+ programming happening in the month of June.
AKA, Pride Month.
There's a slew of great shows including two documentaries we're excited about: Rock Hudson: All That Heaven Allowed and TAYLOR MAC'S 24-DECADE HISTORY OF POPULAR MUSIC.
And, for those of you who can't quite shake your love for Ms Carrie Bradshaw and her aging pals, there's the second season of the Sex and the City reboot, AND JUST LIKE THAT THE SHOW BECAME CRAPPY.
On the plus side, HBO/Max apparently paid Kim Cattrall a buttload of money because she's returning for a short cameo this season despite the fact she turned down offers to return full time and is apparently in a feud with series star Sarah Jessica Parker and the show's producer, Michael Patrick King. So, if you're a fan of Kim/Samantha Jones, all the more reason to watch.
(Note: we adore Kim/Samantha but And Just Like That is proof that you can only beat a dead horse for so long before it turns into indigestible mush…but at least it's indigestible mush wearing ugly outfits that aren't especially flattering!)
More about Max Pride:
MAX CELEBRATES PRIDE MONTH IN JUNE WITH PARTNERSHIPS, EVENTS, AND PROGRAMMING HIGHLIGHTING LGBTQ+ VOICES 
Initiatives Include Partnerships With Them And NewFest To Amplify Queer Voices, Stories, And Content
Max is "Celebrating LGBTQ+ Stories" throughout Pride Month by centering queer joy, love, community, and authentic storytelling. Throughout the month, Max will be "The One To Watch To Show Your Pride" – amplifying voices that uplift and inspire & spotlighting LGBTQ+ talent and programming across Max brand social channels, led by Max's Human By Orientation.
Max will be celebrating Pride all month long with an in-app Pride takeover of the LGBTQ+ Voices page on the app. The LGBTQ Voices page will highlight queer content premiering in June, including the premiere of the HBO documentary The Stroll, which tells the powerful and poignant history of transgender sex workers in New York's pre-gentrified meatpacking district in the 1990s. Additional content coming to Max to celebrate Pride will include Max Original documentary series from Poland Naked. Loud. Proud, HBO documentaries Rock Hudson: All That Heaven Allowed and TAYLOR MAC'S 24-DECADE HISTORY OF POPULAR MUSIC, HBO comedy special John Early: Now More Than Ever,the season two premiere of the Max Original series And Just Like That…,and new episodes of the Max Original comedy series The Other Two and Max Original rom-doc dating series Swiping America.
June will see a design refresh for the spotlight page with an Ultimate Pride celebration, Essential Pride Month Watchlist, and more, promoting both new and iconic content from Max's deep library of authentic queer storytelling including Trixie Motel, I Am Jazz, Our Flag Means Death, Nate & Jeremiah Home Project, 90 Day Fiancé: Love In Paradise. Max will also feature "Home Werk," a curated catalog of episodes in the House Hunters collection on the platform, highlighting same sex house hunting couples as they find their dream home. Max will also highlight over 30 LGBTQ+ organizations on a daily cadence throughout the month by communicating their missions and driving to their platforms leveraging Max's Instagram Stories. Max's Human By Orientation will additionally release a new sizzle highlighting their LGBTQ+ talent and programming across the platform. See linked here.
Max, in partnership with NewFest Pride and Rooftop, will host an outdoor screening of HBO Documentary Film, The Stroll at Gansevoort Plaza on June 5th. The screening will take place in the heart of the Meatpacking District, highlighting the substantial changes that have occurred in the neighborhood over the years, and spotlighting the role the district played in the history of trans and sex worker rights.The event will feature a live musical performance by a queer artist as well as film introductions by directors Kristen Lovell & Zackary Drucker, producer Matt Wolf, subjects of The Stroll.
The partnership will also include the Them x Pitchfork's Night Out Pride Celebration (sponsored by Max's Human By Orientation), a special Pride concert taking place on Saturday, June 17 at Knockdown Center in Queens, New York. The event, which celebrates the impact of queer musicians, and the safe havens that queer clubs provide features musical performances by Tinashe (headliner), Lido Pimienta, Pom Pom Squad, Zebra Katz, and more. Human By Orientation will pop up at Night Out in an unforgettable way by transforming Knockdown Center's Wood Jamb space into the "Max Lounge," a space for attendees to engage with memorable Max moments from programming that resonate with the community.
With Max, viewers now have access to all of HBO Max along with twice the amount of content at the same price. Max delivers unparalleled content for everyone in the household, including the best of unscripted to the highest quality in scripted programming, family-friendly titles, HBO, Max Originals, WB Movies, the DC Universe, food, home, and documentaries.
About Human By Orientation
Human By Orientation is Max's platform for the LGBTQIA+ community. They amplify and celebrate queer voices and stories through year-round programming and cultural moments (including exclusive music performances, comedy specials, and custom video series featuring queer creators) — encouraging people to express their queerest, proudest selves.
(Visited 73 times, 1 visits today)