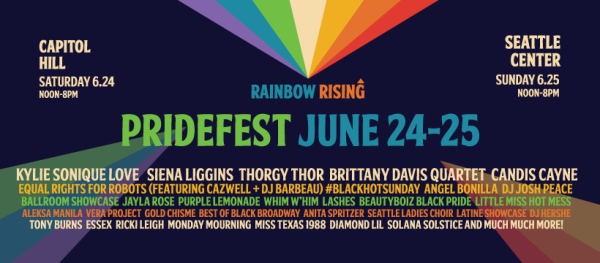 Seattle PrideFest, the producers of two of Seattle's biggest LGBTQ+ Pride events has announced this year's theme: RAINBOW RISING as June Pride Month kicks off in the Emerald City.
Today's press release also highlights both of their festivals: the Pride Saturday festival happening June 24th on Capitol Hill with a street festival on the neighborhood's main drag of Broadway along with events happening in adjacent Cal Anderson Park. The popular event is free and open to the public.
It's followed by the big Pride Sunday festival at Seattle Center with booths and entertainment stages with both local and national talent including Kylie Sonique Love, Candis Cayne, the Brittany Davis Quartet, and Thorgy Thor.
More from the press release:
Seattle, WA , June 1, 2023 – Seattle PrideFest announces the official theme for 2023, "Rainbow Rising," as we celebrate the first day of LGBTQIA+ Pride month. Against the backdrop of increased political rhetoric, new discriminatory laws around the country, threats of violence—and actual violence—against LGBTQIA+ people, PrideFest seeks to highlight the strength, resiliency, creativity, and contribution of the LGBTQIA+ community. This year's theme emphasizes the cultural and societal significance of queer and trans people and acknowledges each individual's unique contribution to that significance. In many halls of power and places of influence, hate and violence are often employed to advance ideologies incompatible with individual human thriving, but Seattle PrideFest seeks to create a platform through advocacy, events, and the arts that uplifts and supports people, where in solidarity we find the strength to fight back, to preserve community, and to create a society where love, acceptance, dignity, and thriving is the norm no matter who you are, who you love, and however uniquely you might express yourself.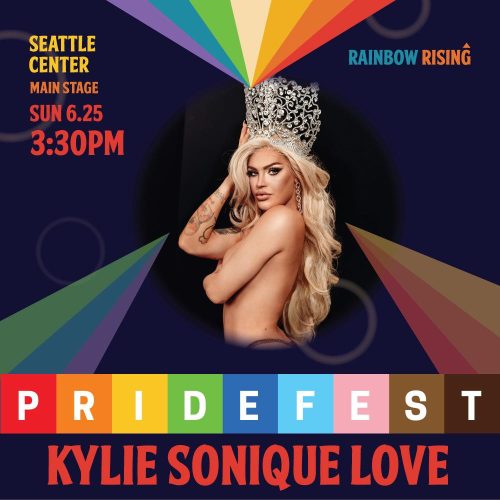 Seattle PrideFest's June schedule begins Saturday, June 3 on Capitol Hill with "Taking Pride in Capitol Hill," with 200-250 volunteers working together to clean the streets and sidewalks of Capitol Hill to prepare the historic LGBTQIA+ neighborhood for Pride Month.
June programming will culminate in two of Seattle's largest festivals.
PrideFest Capitol Hill takes place on Saturday, June 24 from noon-8pm with a street festival that spans six blocks of Broadway (from Roy in the north to Denny in the south) as well as Cal Anderson Park, featuring three stages with dozens of LGBTQIA+ artists, two beer gardens, and hundreds of local businesses and non-profits. The event is free for all.
PrideFest Seattle Center takes place on Sunday, June 25 from noon-8pm at Seattle Center. It features over 100 artists on three stages, three beer gardens, and hundreds of small businesses and non-profits. The festival immediately follows the downtown Pride Parade. Enjoy performers, dance, eat, drink, or just people watch. Headliners include Kylie Sonique Love, Candis Cayne, the Brittany Davis Quartet, Thorgy Thor, Equal Rights for Robots, Siena Liggins, and much more. The event is free for all.
PrideFest 2023 is presented by Delta Air Lines.
More information about Seattle PrideFest events can be found at seattleprideguide.com. More information about PrideFest, including how to volunteer, can be found at seattlepridefest.org.
(Visited 43 times, 1 visits today)