Not a huge amount of theater openings in August locally (it's summer and we're more inclined to be outside than in) but there's still a nice selection to choose from including a revisit to classic works from Ibsen and Shakespeare plus new plays and campy comedies to amuse us in-between barbecues.
Compiled by Miryam Gordon from press reports.
Hedda Gabler, General Gabler's Theatre (GGT), 8/4-12/23 (at West of Lenin)
Hedda, a 19th Century woman with plenty of will but no room to exact it, thought she made a wise deal with the man she just married. She would be his wife, and he would provide her with the safe and respectable means to occupy her active mind. When it becomes clear that her husband can't fulfill his end of the bargain, her mind quickly turns dangerous.
Ballabhpur Ki Roopkatha, Pratidhwani, 8/4-13/23 (at Ethnic Cultural Theatre)
Once (upon a time) there was a King. His name was Bhoopati Rai. He had a Queen.. Nope! He had no queen. That doesn't work! What kind of a fairytale has a king with no queen? To tell you the truth, this isn't a very good tale at all. In fact, it is quite weak in some spots. But if you come to listen to our tale, we will be glad to tell it to you! A Hindi translation of Badal Sircar's original Bengali play.
https://www.pratidhwani.org/bkr
Titanish, Marxiano Productions with Seattle Public Theater, 8/10/23-9/17/23
Crashing onto the shores of Green Lake this August, this musical parody (that lampoons the epic film) will showcase the wit and creativity that The Habit Comedy writers are acclaimed for. If you missed it last summer, here's your chance to see and hear all the silliness, and enjoy a giant ship recreated in a tiny theater.
Festival of New Musicals, Village Theatre, 8/12-13/23
The premiere developmental workshops for new musicals has again drawn major musical theater-writing talent to Issaquah for a weeklong process with professional actors, directors and music directors. The culmination of the work will be presented over two days. "Festival" is a fun-filled and exciting annual summer event, and this weekend is a significant marker in the post-Covid theater landscape!
Ms. Pak-Man: Unplugged, Shoes and Pants Productions, 8/17-26/23 (at Theatre Off Jackson)
The all-new installment of the critically acclaimed Ms. Pak-Man series is here! This year, the 8-Bit Diva will get up close and way too personal with her first ever Unplugged show! This world-renowned power-pill popping, martini sipping superstar will strip down to her bare code as she shares never-before heard songs and scandalous (mostly) true stories about her lives and loves, glitches and all. It's a hilarious night of comedy, confessions, and camp that is definitely worth the quarters!
https://www.strangertickets.com/events/139489481/ms-pak-man-unplugged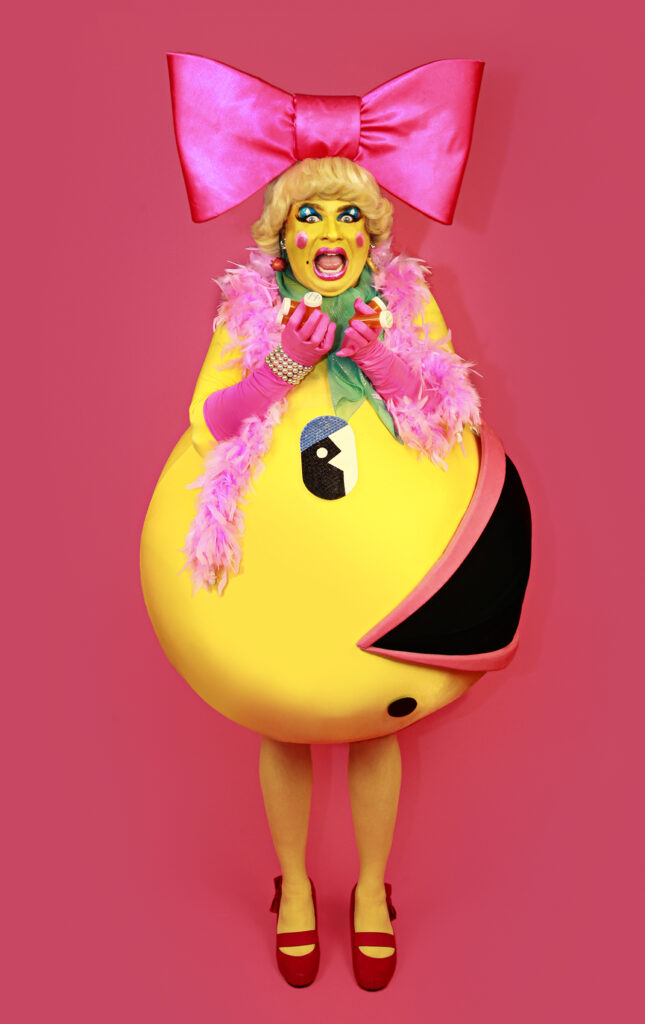 Bethany Sees the Stars, Copious Love Productions, 8/24/23-9/9/23 (at West of Lenin) (World Premiere)
15-year-old Bethany spends her days in an eternal funk. When a letter arrives inviting her to be a crew member on the first manned mission to Mars, she decides to leave it all behind. With her journey fast approaching, Bethany must turn to the all-knowing constellations for the answer to an impossible choice. Funny and tender, this world premiere play by Emily Golden is a cosmic meditation on hope, loss, and the ability of relationships to hurt us or heal us in our most vulnerable seasons of life.
The Tempest, Seattle Rep's Public Works, 8/25-27/23
An updated musical version of Shakespeare's sorta famous show is the next choice for the Rep's community-engagement project. 60+ community and professional actors take on the tale of Prospero, banished to a magical island by a conniving sibling, who bewitches a storm to bring them back together for a final showdown. Sprites abound, young lovers meet, and mischief is made as two very different worlds collide.
For more articles, please go to https://MiryamsTheaterMusings.blogspot.com and subscribe to get them in your in-box!
(Visited 61 times, 1 visits today)