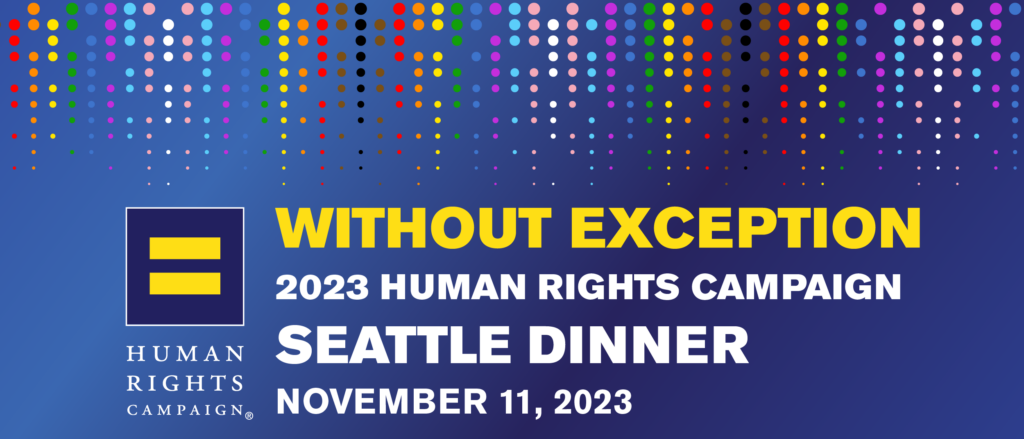 You still have time to snag early bird tickets! Until Sept 15th! It's always a star studded event!
HUMAN RIGHTS CAMPAIGN
SEATTLE DINNER
SATURDAY, NOVEMBER 11, 2023
5:30 PM – Welcome Reception
7:00 PM – Dinner & Stage Program
The Sheraton Grand Seattle
1400 Sixth Ave
Seattle WA 98101
Human Rights Campaign dinner events are critical opportunities to gather as a community, share our work together and raise essential funds to fuel our mission. While we have won significant recent victories, such as the passage of the Respect for Marriage Act and the election of more LGBTQ+ officeholders than ever before, we have much more to do. The Supreme Court just granted some businesses the right to discriminate against LGBTQ+ people. We're also fighting the dangerous onslaught of anti-equality attacks in the statehouses; making schools, workplaces and public spaces safe for LGBTQ+ people; and preparing for the presidential election of 2024. We must work together to secure our rights and achieve real and lasting change. Please join us and help us achieve equality for everyone — without exception.
Event Details
We are excited to host this in-person fundraising dinner. The support generated from this event will help fuel the work for LGBTQ+ equality.

Our Welcome Reception for all guests will begin at 5:30 pm with the main program beginning at 7:00 pm.

HRC encourages you to dress however you feel comfortable. Have fun with it! Whether that is black tie, festive or casual, the important thing is that you are there.

The purchase of each dinner ticket comes with a complimentary year of HRC membership. To learn more about what it means to be a member and membership options, visit www.hrc.org/get-involved/memberships. Using the details provided during Pre-Check In, HRC may send you pertinent announcements and updates concerning the event both before and during the event.

Terms. Your connection to equality will last longer than one night. By providing your mobile number and email, you agree that HRC and its agents may contact you by mobile phone, text or email regarding HRC programs, events and membership. When you receive such calls, texts or emails from HRC, you can unsubscribe at any time

For information on our COVID policy, please go to hrc.im/covidsafe
Run Time
5 hours 30 minutes
(Visited 9 times, 1 visits today)