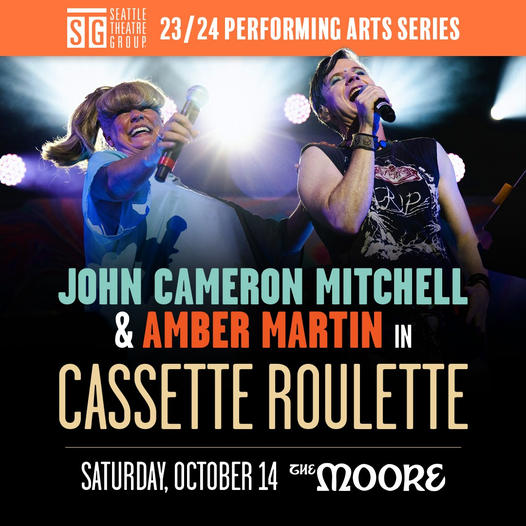 UPDATE: SADLY, this show has been cancelled!!! Seattle Theatre Group told me it MIGHT be rescheduled for another date in the future but…for now, it's not happening in October!!!!
We always do a big gay SQUEEEEEEEEE when it comes to news about John Cameron Mitchell, the brilliant actor/writer/director/co-creator of Hedwig & The Angry Inch. Especially when it's news about John coming to Seattle to do a show.
In this case, my SQUEEEE is in reference to his next show coming to town (and others) on a national tour…it's CASSETTE ROULETTE, his fun show he does with the fantastic singer Amber Martin (who was also a part of John's last show in Seattle back in 2020 right before Covid hit the fan). Amber and John will hit Seattle Theatre Group's lovely Moore Theatre on Saturday October 14th for a one night only presentation of a show chosen by the "hand of fate"!
It's like a roulette wheel where a twist of the wheel determines what songs and stories will be a part of that night's show! EVERY show is unique and different…and, since John has decades of great songs, stories, and characters in his show biz trunk, you just know it's gonna be a crazy fun night.
(And, for Hedwig uber fans, you just know there'll be a Hedwig song or two in there somewhere…)
Get tickets at https://www.stgpresents.org/calendar/14202/john-cameron-mitchell-amber-martin
More poo:
John Cameron Mitchell and Amber Martin's Cassette Roulette Comes to Seattle this Fall for One Night Only
Saturday, October 14 at 8:00 PM
The Moore Theatre
Tickets On Sale Now
(Thursday, September 14, 2023—SEATTLE) The Tony Award-winning star of stage and screen John Cameron Mitchell (Joe vs. Carole, Hedwig and the Angry Inch), one of alt-culture's boldest creators, joins forces with international cabaret star Amber Martin and special guests for a world premiere evening of songs, stories and characters, all chosen by the hand of fate and the 'cassette roulette' in Cassette Roulette. Backed up by Hedwig's Broadway Music Director, Justin Craig and band, it's never the same show twice. Cassette Roulette plays in Seattle for one night only on Saturday, October 14 at 8:00 PM at the Moore Theatre, presented by Seattle Theatre Group as part of its 2023/24 Performing Arts Series.
Single tickets (starting at $55, not including fees) to this performance and 2023/24 Series subscription packages are on sale now and can be purchased online at www.stgpresents.org or in person at the Paramount Theatre Box Office at 911 Pine St. Cassette Roulette is an all-ages event with reserved seating.
John Cameron Mitchell directed, starred in, and wrote, with Stephen Trask, the film Hedwig and the Angry Inch (2001), for which he won Best Director at the Sundance Festival and was nominated for a Golden Globe as Best Actor. His Broadway production of Hedwig garnered him Tony Awards for his performance and for Best Revival of a Musical. Amber Martin is a celebrated New York City-based vocalist, cabaret star, and comedic monologist. Named one of the Top Performers of the Year by The New Yorker, Martin brings a combination of cabaret, belting vocals, and no-holds-barred comedy to her live, raucous, genre-hopping musical performances.
(Visited 13 times, 1 visits today)