AHG Presents: SEATTLE Queer Industry Night @ Life on Mars
June 5 @ 8:00 pm

-

12:00 am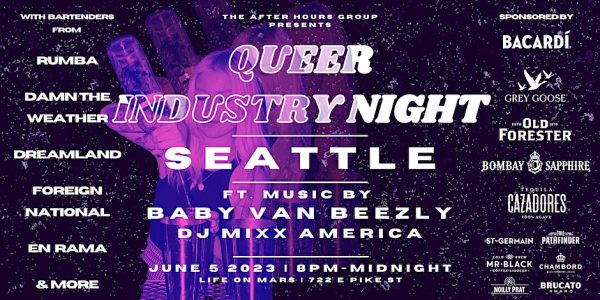 Queer Industry Night Makes its Seattle Debut at Life on Mars!
Allow Us to Introduce Ourselves!
Queer Industry Night is the brain child of host Erin Roo from The After Hours Group – an event conceived in San Francisco celebrating the LGBTQ service industry and providing a queer-ass space for us all to connect and party during Pride month.
We're bringing QIN to Seattle for the very first time, featuring an asbolutely stacked lineup of LGBTQ+ bartenders from the city's best cocktail bars ready to serve up a night of cocktails, community, and cruising. A portion of proceeds will be donated to The Groundswell Fund, a national organization focused on strengthening U.S. movements for reproductive and social justice by resourcing intersectional grassroots organizing and centering the leadership of women of color – particularly those who are Black, Indigenous, and transgender.
What to Expect:
Cocktails from Seattle's best LGBTQ+ Bartenders!
Adam Aly (Foreign National)
John Fry (Rumba)
Robin Kim (Damn the Weather)
Celestina Nunez (Foreign National)
Cera Grindstaff (Dreamland)
Manny Contreras (En Rama)
PLUS Your Host, Erin Roo and an all-LGBTQ team from Life on Mars!
Music from some of Seattle's best LGBTQ+ DJ's!
DJ Baby Van Beezly – DJ Baby Van Beezly is one of Seattle's premier nightlife and private event DJs. Her high energy sets are jam packed with turntablist tricks and hype girl vibes that will make it impossible for you not to get on your feet and let it rip on the dance floor! You can catch her playing at her residence venue Queer/Bar, also Supernova, Nectar, High Dive, The Cuff, The Woods, and so many more. They don't call her "The Hardest Working DJ in Seattle" for nothing!
DJ MIXX America – MIXX's specialty is creating a festive party atmosphere by seamlessly weaving together Top 40 tracks across various genres. As an openly queer artist, MIXX has a passion for supporting the LGBTQ+ community with a special focus on the often underrepresented POC, trans and youth in the community, and has provided the soundtrack for notable city events for the rainbow community, such as the Seattle PRIDE parade, the PRIDE flag raising ceremony and the mayor's PRIDE reception.
Sponsored by Our Favorite Brands!
A huge thank you to our spirits sponsors, Grey Goose Vodka, Bacardi Rum, Bombay Sapphire Gin, Cazadores Tequila, Old Forester Bourbon, Mr. Black Coffee Liqueur, The Pathfinder Amaro, Chambord Raspberry Liqueur, Brucato Amaro, and St-Germain Elderflower Liqueur.
Tickets Include:
Each $25 ticket includes event entry, vegan snacks, and 2 drink tickets good for 1 cocktail or 2 beers. Additional drink tickets will be available for purchase at the event. Please remember that drink tickets don't include gratuity – bring cash and TIP YOUR BARTENDERS!
A portion of each ticket will be donated to The Groundswell Fund with donations matched by our awesome sponsors!
Housekeeping:
This event is open to all members of the LGBTQ+ community who work in the service industry at large. Allies are welcome to attend with LGBTQ+ friends or partners, but encourage our allies to remember that "showing up" means more than just taking up space! We suggest choosing "Sponsor a Ticket" and purchasing a ticket for a community member in need, or covering a queer coworker's shift so that they can attend this event.
This is a 21+ event. We strongly suggest that all attendees be fully vaccinated against Covid-19 and we recommend wearing masks while approaching the bar or interacting with staff.
If you are interested in attending and are unable to afford a ticket, please send us an email through eventbrite – a select number of sponsored tickets are available for folks who are unable to purchase due to lack of funds.
(Visited 12 times, 1 visits today)
Related Events