ArtHaus 6.0: Pasture Bedtime
September 7, 2019 @ 7:00 pm

-

10:00 pm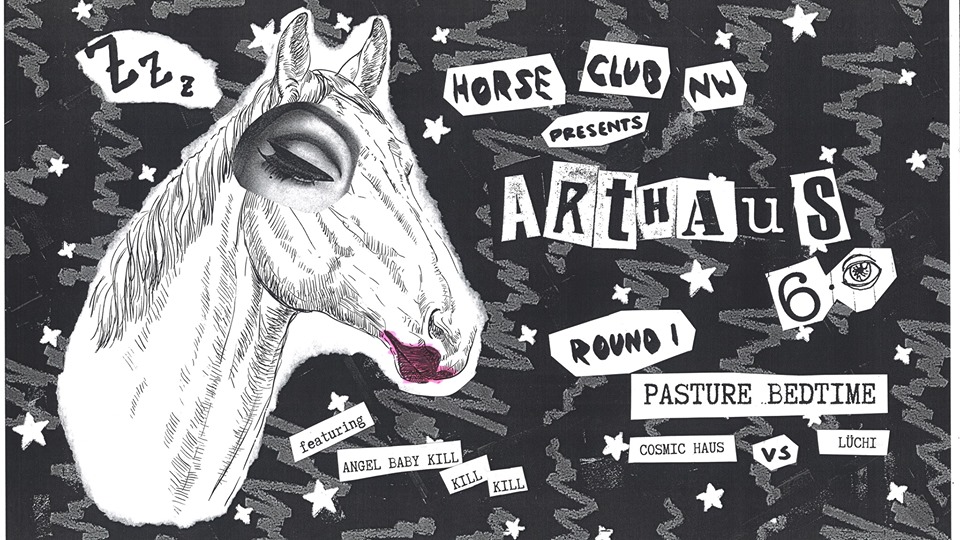 ∙·▫▫ᵒᴼᵒ▫ₒₒ▫ᵒᴼᵒ▫ₒₒ▫ᵒᴼᵒ▫ₒₒ▫ᵒᴼᵒ▫ₒₒ▫ᵒᴼᵒ▫▫·∙
HORSE CLUB NW
presents
ArtHaus 6.0: Pasture Bedtime
with special guest
ANGEL BABY KILL KILL KILL
∙·▫▫ᵒᴼᵒ▫ₒₒ▫ᵒᴼᵒ▫ₒₒ▫ᵒᴼᵒ▫ₒₒ▫ᵒᴼᵒ▫ₒₒ▫ᵒᴼᵒ▫▫·∙
💫 TIX: bit.ly/ArtHaus6Launch 💫
Arthaus: Drag Haus Battle Royale is back for season 6-6-sickening! Hosted by 5.0 winners Horse Club NW, ArtHaus pits eight teams of drag freaks, geeks, and chic-s in a year-long competition where your vote determines whose haus reigns supreme!
ROUND 1
––––•☾-•☾-✫–——-✫-☽•-☽•––––
COSMIC HAUS vs LÜCHI
in
ArtHaus 6.0
PASTURE BEDTIME
––––•☾-•☾-✫–——-✫-☽•-☽•––––
For our first preliminary round of competition, we're asking our queens the age-old question: do horses dream of electric Jeeps? The category is bedtime fantasy, and you better prepare yourselves dream warriors. Only one haus can advance to our semi-finals, while the other is left to clean up nocturnal emissions. Find out what happens when drag stops being polite, and starts getting surreal!
COSMIC HAUS is
Arrietty Fatale
& Evvie the Human
LÜCHI is
Ümlaut
& Isis
Performances by
HORSE CLUB NW
Beau Degas
& Bitch Hazel
Special Guest:
Angel Baby Kill Kill Kill
$9/advance, $13/at the door
Doors @ 7pm / Show @ 8pm
—————————
Kremwerk
1809 Minor Ave.
Seattle, WA
kremwerk.com
21+
—————————
Sign up for the Kremwerk + Timbre Room Complex mailing list on our website, to stay in the loop about upcoming events, ticket giveaways and more!
Related Events