Deck'd Out #6 Innerflight & Shameless Present: Markie (Wicked, SF)
August 5, 2021 @ 7:00 pm

-

11:00 pm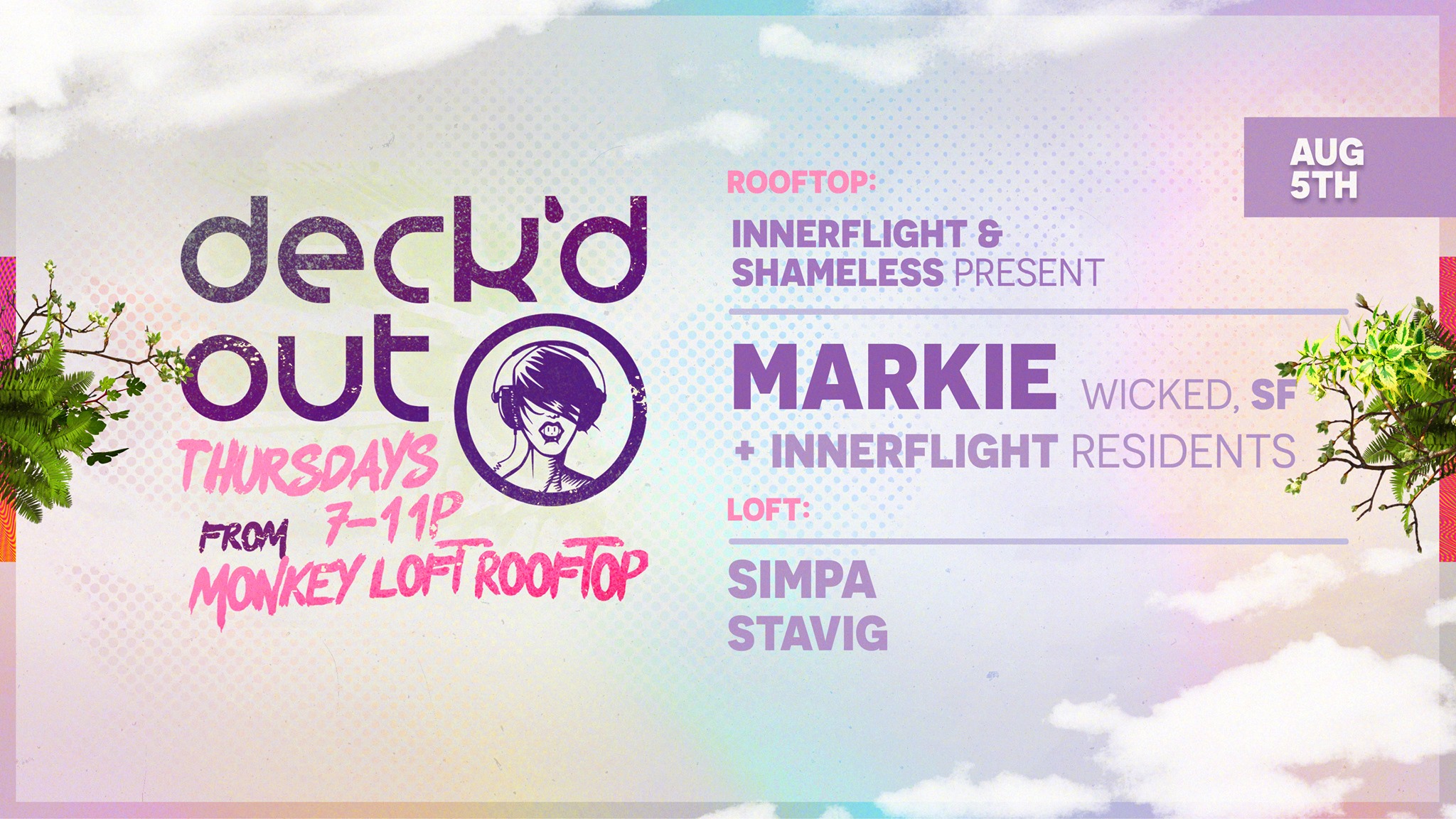 IMPORTANT ANNOUNCEMENT:
Proof of vaccination (or recent negative Covid test/within 72 hours) will be required for this event (a photo works). Masks are recommended but not required indoors if vaccinated. If you had already purchased tickets and this announcement impacts your ability to attend, we'll honor refund requests via Eventbrite for this reason.
————————————
++8th Annual Deck'd Out 2021 Summer Series++
The grill will be fired up with tasty treats and the sound system will be rocking from 7p-11p every Thursday throughout the summer of 2021. Come experience outdoor dancing with a view of the Seattle skyline at one of Seattle's most beloved house/techno venues in the city.
Each week we'll be showcasing rotating DJs/crews from the Pacific Northwest and beyond.
August 5th 7-11p
[Rooftop Stage]
++Markie (Wicked, SF)++
++Night Train (Innerflight)++
++Kadeejah Streets (Innerflight)++
Markie Bio:
Markie aka Markie Mark was born and raised in the UK; a bit of a high brow intellectual run amok, abandoning his University education to follow the beat, DJing on the beaches of Brighton and in the squats of London. Markie's early involvement in the UK underground acid house phenomenon that spread through England in the late 80's, began with Whoosh!, the notorious outlaw psychedelic parties of East London. Markie, along with mates Jenö, Para, Bones & Ron began this monthly party in an unsuspecting anarchic bookstore off the beaten path.
This collective mind, led to Markie's involvement in the Tonka HiFi Sound System- a band of merry pranksters including Harvey, Choci, Rev, & Thomas, who formed the now legendary Tonka parties that were free and outdoors, anywhere they could get away with setting up a Turbo Sound System. The Tonka free parties were funded by a monthly party at the renowned Zap Club in Brighton, which then would carry onwards at the Brighton beach shores, well after sunrise. These renegade after parties were the precursor to what would become known in the San Francisco Bay Area as the monthly Wicked Full Moon parties.
By '91, the UK rave scene grew in enormity and the government put a strangle hold on clubs, while shutting down these renegade parties. This led Markie along with his mates Garth, Jenö & Thomas to jump on a jet and seek their musical Utopia in the magical lands of San Francisco. This was where the legendary Wicked was born- the four began their musical ministry, teaching to the unenlightened, wherever they could, once a month, under the glow of the Full Moon in a symbiotic collaboration few others have been able to achieve. In no time, this ignited an acid house fueled British invasion stateside, spreading the music in waves across the nation.
Markie's mixing has stood apart, with his talent to transcend beyond the usual sexual barriers of nightclubs, including a residency at the sexually mixed SF Club Townsend's Carefree Dancing. Renowned for his unique talent of mixing layers of house vocal classics, psychedelic grooves and obscurities, Markie masters an incomparable eclectic groove. His talent to reach the dancefloor beyond the usual limitations led Markie to spin in large festivals like Glastonbury, Burning Man and the ENIT Festival, along with clubs like the legendary Twilo in NYC.
In '92 Markie kicked off his recording career, when an encounter with Psychic TV's Genesis P Orridge led to a collaboration on Psychic TV's Kondole Part 3. Markie went on to release tracks on Grayhound, Honchos, Green Gorilla, Third World & Twisted Roots.
After 13 glorious years of musical mischief, the renegade DJs of Wicked disbanded, which led Markie to return to his education career and DJ on select dates throughout the country. Markie's DJing talent remains singular and sought after for over 20 years now.
(Visited 1 times, 1 visits today)
Related Events