Depth x Haüsed: Daniel Avery
October 10, 2019 @ 9:00 pm

-

2:00 am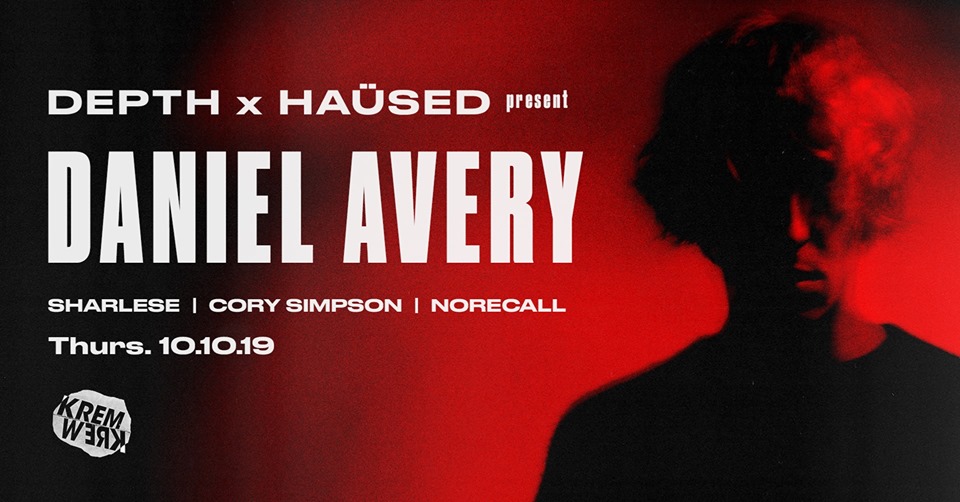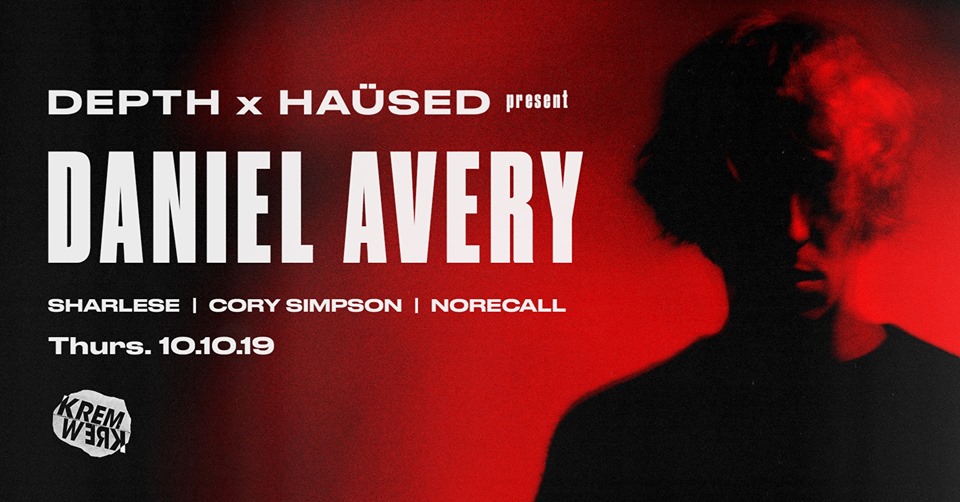 Depth & Haüsed present…
Daniel Avery

support from…
Sharlese

Cory Simpson

noRecall

🎟️ TIX: http://bit.ly/HausedDanielAvery 🎟️
………………………………………
Kremwerk
1809 Minor Ave.
Seattle, WA
http://kremwerk.com
21+
………………………………………
About…
Haused at Kremwerk
Your new weekly destination for house & techno every Thursday at Kremwerk
Daniel Avery
"Electronic music is unique in that, whilst it has an immediate effect on the body, the culture surrounding it has the ability to run deep into your life. Whenever I'm in a club, I want to give myself up to music. This is the very thing that excites me the most. Witnessing a DJ create an atmosphere in a room from the ground up takes patience and effort from everyone present but when the pivotal moments hit, your watch stops ticking."
It is this thinking which motivated and inspired the making of Daniel Avery's entry into the treasured DJ-Kicks series. Across its 78 minutes the mix creates a hypnotic space focusing on "music by some like-minded souls" from the outer reaches of techno. It is a mix concerned with the idea of taking a collective breath and allowing records their own space.
"The music that always hits hardest is what I'd consider to be unreal, something that sounds like it comes from another place entirely and moves at its own pace. I want to create those moments where opening your eyes on a dance floor becomes difficult. When the outside world is nothing more than a distant thought." The mix also features three new original Avery productions including a track from Rote, a project with BleeD boss Volte-Face. It follows three years' worth of studio experimentation in-between a life spent on the road touring the enormous success of debut record, Drone Logic. Released on Erol Alkan's wildly psychedelic Phantasy label, reviews were unanimous in praise: "A mesmerising debut" (Mixmag); "In a league of its own" (NME); "Exceptional" (The Times); "One of the finest techno albums of the year" (The Quietus); "Underground dance music with this much ambition hasn't been heard in quite a while" (Resident Advisor); "Avery owns this space" (Pitchfork); "A benchmark for so many other dance albums to aspire to" (Dummy).
Its success was furthered by the fact that Drone Logic didn't really fit expected templates of what a dance record today should sound like. There are no set piece vocals; when voices emerge on tracks, they are invariably disembodied, odd. And as distortion whips across techno-based backing tracks, it splices modern club music with the kind of sounds that forward thinking guitar bands might conjure up. The result was a wholly compelling, gloriously transcendent album and one that continues to strike a chord with new listeners.
Coming off the back of 2012's much-lauded FABRICLIVE 66 compilation, many of Drone Logic's early demos were first tested at the London clubbing institution. Whilst Avery claims that his music is affected by every stop on a relentless tour schedule, one that has cemented his position in Resident Advisor's "Top DJs" poll for several years straight, his debut was a record very much conceived in fabric. It seemed natural, therefore, for his residency to be taken one step further with Divided Love, "a semi regular gathering and a chance to present acts who are doing something special; music for the mind…"
The night, now expanded across Europe and beyond, has already played host to the likes of DJ Nobu, Helena Hauff, Voices From The Lake, Xosar, Kassem Mosse, Dopplereffekt, Answer Code Request, Lee Gamble, Voiski, Factory Floor and Objekt to name a small handful. Furthermore, a distinct line can be drawn between Divided Love and the double album of carefully curated remixes that followed Drone Logic: New Energy. Featuring reworks from Rødhåd to Powell, Silent Servant to Roman Flügel, Perc to Beyond The Wizard's Sleeve, it stands with the DJ-Kicks CD as yet another testament to the strength of the current state of affairs in underground electronic music, borne out of one of its most original talents.
………………………………………
Sign up for the Kremwerk + Timbre Room Complex mailing list on our website, to stay in the loop about upcoming events, ticket giveaways and more!
http://www.kremwerk.com/
………………………………………
Kremwerk strives to be a safe space. The following actions or display of behavior will not be tolerated: bigotry, racism, sexism, transphobia, homophobia, misogyny, ableism, as well as the disrespect of the rules of consent. Our staff is here to support you.
Kremwerk is currently not an ADA accessible space. Club entry is through a flight of 12 metal stairs, with two small steps leading into the main part of the club. We have 2 restrooms with a total of 3 stalls and 1 urinal, all gender neutral. If you would like access to single-stall restrooms, please don't hesitate to ask our door & security to allow entry upstairs into Timbre Room, which has 2 single-stall gender-neutral restrooms.
For any questions about safety & accessibility, please email info@kremwerk.com.kremwerkkkremwerk
(Visited 1 times, 1 visits today)
Related Events