False Prophet Presents: HTRK
October 30, 2019 @ 8:00 pm

-

11:30 pm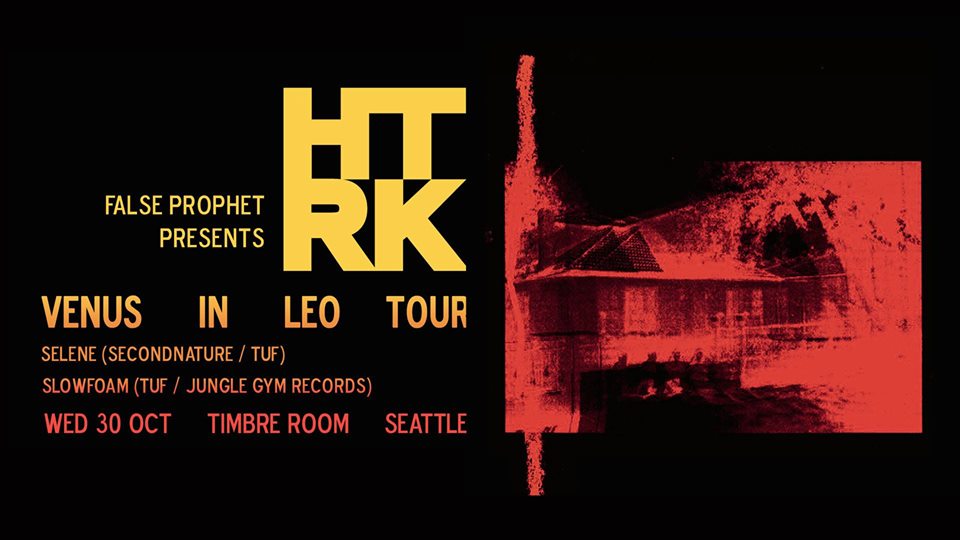 False Prophet Presents….
HTRK
https://htrk.bandcamp.com/
with support from…
Selene (Aos's New Project) [secondnature | TUF]
Slowfoam [TUF | Jungle Gym Records]
https://soundcloud.com/slowfoam
Tickets: bit.ly/HTRKTR
Timbre Room
1809 Minor Ave.
Seattle, WA
http://kremwerk.com/
21+
………………………………………
About…
HTRK
One of Australia's most esteemed bands, HTRK formed in Melbourne in 2003 as the trio of vocalist Jonnine Standish, bassist Sean Stewart (d.2010) and guitarist Nigel Yang. Their early live shows caught the attention of ex-Birthday Party guitarist Rowland S. Howard who went on to produce their now classic debut "Marry Me Tonight". In 2006 the band relocated to Europe, toured widely and signed with electronic labels blastfirstpetite and Ghostly International. Stewart's suicide in 2010 left Standish and Yang reeling, yet they continued to record and released the intense, texture-laden "Work (work, work)" in 2011 to critical acclaim. After returning to Australia in 2012, Standish and Yang decamped to the deserts of New Mexico to produce their third and latest album "Psychic 9-5 Club" (2014), a dub-wise meditation on altered states and "inner peace" that struck deep with critics and fans the world over. The duo's fourth studio album "Venus in Leo" was recorded in Melbourne in 2018 and is due for release in August 2019.
………………………………………
Sign up for the Kremwerk + Timbre Room Complex mailing list on our website, to stay in the loop about upcoming events, ticket giveaways and more!
http://www.kremwerk.com/
………………………………………
Timbre Room does not tolerate bigotry, sexism, homophobia, transphobia, racism, misogyny, ableism, or any discriminatory actions. Security is strictly enforcing these rules, and those who do not abide by these rules will be told to leave.
Timbre Room is ADA accessible with a ramp to the front door/bar area, and access to the back door/dance area through the patio area, and 2 accessible gender-neutral restrooms available. If you have any questions about the safety or accessibility of this venue, please email info@timbreroom.com
Related Events