Hillary Rodham Clinton & Chelsea Clinton: The Book of Gutsy Women
October 18, 2019 @ 7:00 pm

-

9:00 pm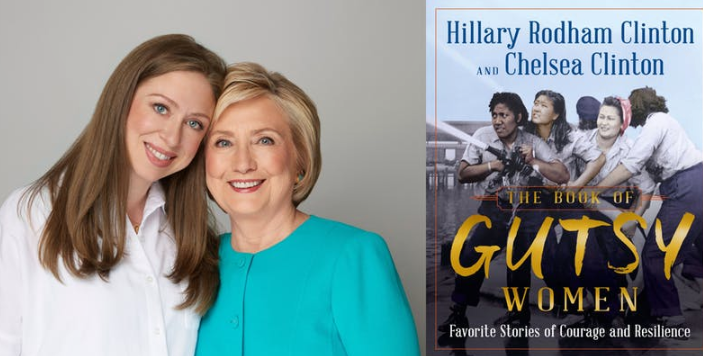 SOLD OUT!
The Book of Gutsy Women: Favorite Stories of Courage and Resilience by Hillary Rodham Clinton and Chelsea Clinton
A very limited number of tickets go on sale to the public at 10 a.m., Monday, September 23
$40, admits one person and includes a copy of Gutsy Women.
This event does not include a booksigning.
Friday, October 18
Doors open: 5:30 p.m.
Program: 7 p.m.
Join Secretary Hillary Rodham Clinton and Chelsea Clinton as they celebrate the women who have inspired them throughout their lives. THE BOOK OF GUTSY WOMEN: Favorite Stories of Courage and Resilience is the first book that Secretary Clinton and Chelsea have written together, and they are excited to welcome readers into a conversation they began having when Chelsea was a little girl. Join them as they discuss the women throughout history who have had the courage to stand up to the status quo, ask hard questions, and get the job done.
Inspired by women whose tenacity blazed the trail, the two global leaders lay out a vision for how these stories of persistence can galvanize women and men, boys and girls around the world. There's Greta Thunberg, a 16-year-old climate activist whose Asperger's syndrome has shaped her advocacy. Civil rights activist Dorothy Height, LGBTQ trailblazer Edie Windsor, and swimmer Diana Nyad, who each kept pushing forward, no matter what. Writers like Rachel Carson and Chimamanda Ngozi Adichie, historian Mary Beard, who used wit to open doors that were once closed, and activists like Harriet Tubman and Malala Yousafzai, who looked fear in the face and persevered. And so many more.
This groundbreaking celebration of gutsiness is a call to action – not just for women, but for all of us, especially now. The authors write, "Ensuring the rights, opportunities, and full participation of women and girls remains a big piece of unfinished business of the twenty-first century. Finishing it is going to take all of us standing shoulder to shoulder, across the generations, across genders. This is not a moment for anyone to leave the fight, or sit on the sidelines waiting for the perfect moment to join."
All tickets to the GUTSY WOMEN Tour include a copy of THE BOOK OF GUTSY WOMEN.
Hillary Rodham Clinton is the first woman in US history to become the presidential nominee of a major political party. She served as the 67th Secretary of State after nearly four decades in public service advocating on behalf of children and families as an attorney, First Lady, and US Senator. She is a wife, mother, and grandmother.
Chelsea Clinton is a champion for girls and women through her advocacy, writing, and work at the Clinton Foundation. She is also an adjunct assistant professor at Columbia University's Mailman School of Public Health. She lives in New York City with her husband, their children, and their dog.
Related Events