Keefee's House Of Cards-Starman
September 8, 2019 @ 8:00 pm

-

9:30 pm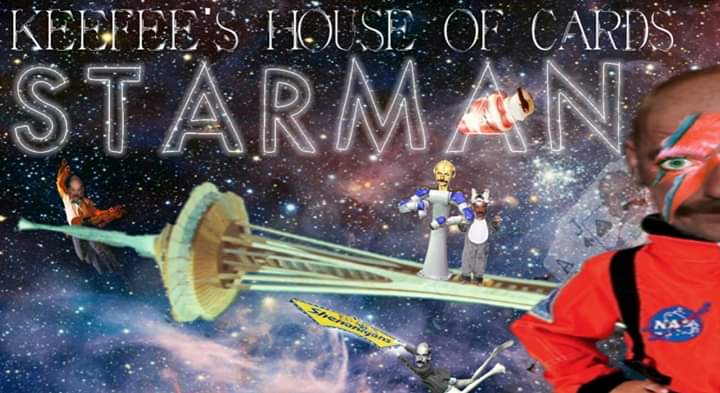 SUNDAY FUNDAY SHOW!
Maybe Keefee will cover Bowie.
Maybe we'll long for a city we've lost.
Maybe Santa won't be angry.
Maybe we'll take a trip to the stars.
No guarantees.
No refunds.
"THIS IS THE KIND OF THING THE WORLD NEEDS MORE OF" – EMMETT MONTGOMERY
"Last month, from the moment Keefee arrived on stage dancing excitedly in Daisy Dukes to muffled music from an uncooperative PA system, I could tell I was in for something special."- Travis Vogt, CityArts
(read the full interview) http://www.cityartsmagazine.com/man-who-would-be-keefee/
———————————————
Keefee's House of Cards is an improvisational, interactive, blackjack theater experience. TICKETS ONLY $10 AT THE DOOR!
Imagine that the Late Late Show (w/Craig Ferguson) and Pee Wee's Playhouse got drunk together one night and played blackjack….then kept on drinking and ended up making a baby together. Keefee's House of Cards would be that baby.
During the show, Keefee deals cards and four audience members will play blackjack. They will chat. The audience will join the chat. Santa will interject. Everyone will dance for 53 seconds and this hilariously unpredictable evening will go wherever it wants to go. Very little is pre-planned and literally anything could happen.
"If you haven't been to one of these, you truly haven't lived. Come with me!" – Katherine Cleveland …who is moving to ID so you missed your chance to join her. Or maybe not. If the stars align, this show may be streamed live on Pay Per View!!….or free on the internet somewhere. More to come!rendezrendezrrede
(Visited 1 times, 1 visits today)
Related Events