Kings ~ A Drag King Show @ Kremwerk
June 24 @ 5:00 pm

-

9:00 pm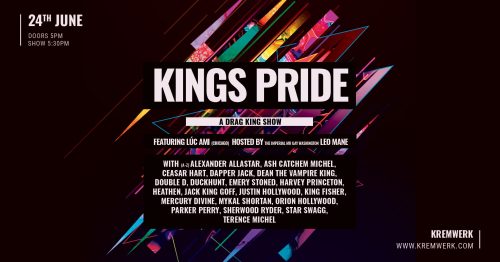 oin Us for the Spectacular Drag King Festival of Massive Proportions! 
 Date: 06/24/23
 Location: Kremwerk Seattle
 Time:
Doors: 5pm
Show: 5:30pm
 Tickets: 
https://link.dice.fm/P84324403987
Calling all lovers of gender expression, celebration, and empowerment! We are thrilled to announce the most magnificent Drag King Festival, a vibrant and inclusive event that celebrates the diversity and artistry of drag kings, beings, things and supremes from far and wide. Get ready to experience a night of breathtaking performances, infectious energy, and a community united in joy and self-expression!
 Show-Stopping Performances:
Prepare to be dazzled as many of the most talented drag kings from across the North America take the stage to showcase their incredible artistry. From fierce lip-sync, live rapping and singing to mind-blowing dance routines and costuming, these performers will leave you awestruck with their charisma, creativity, and confidence. Be prepared for an evening of jaw-dropping entertainment that will leave you wanting more!
 Featuring Lúc Ami (Chicago) & 
 Hosted by The Imperial Mr Gay Washington Leo Mane 
with: (a-z):
 Alexander AllaSTAR
 Ash Catchem Michel (Spokane)
 Ceasar Hart (co-host!)
 Dapper Jack (Spokane)
 Dean the Vampire King
 Double D
 DuckHunt
 Emery StoneD
 Harvey Princeton
 Heathen (Vancouver, BC)
 Jack King Goff
 Justin Hollywood
 King Fisher (Vancouver, BC)
 Mercury Divine (San Francisco)
 Mykal Shortan
 Orion Hollywood
 Parker Perry
 Sherwood Ryder
 Star Swagg
 Terence Michel (Spokane)
 Inclusive and Welcoming Environment:
At the Drag King Festival, we believe in creating a safe and inclusive space for people of all backgrounds, genders, and sexual orientations. We celebrate diversity and embrace the richness of our community. Whether you identify as LGBTQIA+, an ally, or simply love the art of drag, you are warmly welcomed to join us and be a part of this unforgettable event.
 Tickets: (+fees)
https://link.dice.fm/P84324403987
Tickets to Kings a Drag King Show:
GA Presale: $17
Reserved Seating Presale: $20
Day of Show Tickets: $25 (purchased at door) (no ticketing fees)
(if you bought a Kremwerk Pride Week Pass, please know that this year Drag Tickets require a seperate ticket so you will still need to purchase tickets for drag shows)
……………………………………
SAFER SPACE
The following actions or displays of behavior will not be tolerated: bigotry, racism, sexism, transphobia, homophobia, misogyny, and ableism.
CONSENT
Consent is required when interacting with others. A person's choice of self-expression is not an invitation for non-consensual touching. Any form of harassment including leering, rude comments or touching will be dealt with, and anyone caught harassing other patrons will be given a lifetime ban from our club. Our staff is here to support you. Remember consent can also be retracted at anytime.
PHONES
For the sake of the vibe during dance parties, we ask that you avoid using your phones or taking photos anywhere on the dance floor. Feel free to use your phones on the patio.
………………………………………
Kremwerk is currently not an ADA-accessible space. Club entry is through a flight of 12 metal stairs, with two small steps leading into the main part of the club. We have 2 restrooms with a total of 3 stalls and 1 urinal, all gender-neutral.
(Visited 7 times, 1 visits today)
Related Events