Kitchen Sessions : Yayoi Kusama
July 19, 2017 @ 7:00 pm

-

9:00 pm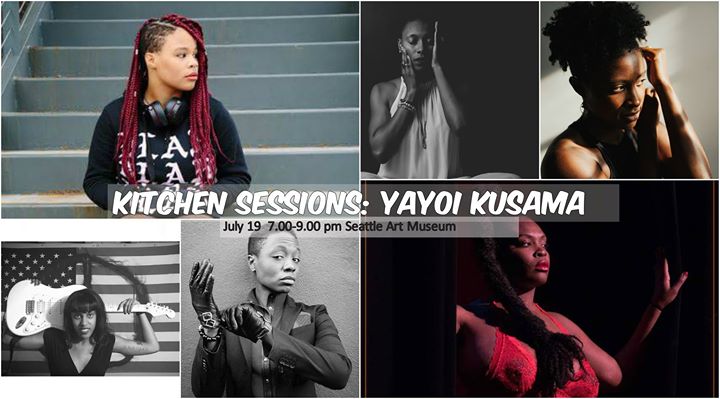 Kitchen Sessions: Yayoi Kusama, Curated by Imani Sims
Wednesday,July 19,7.00- 9.00 pm
Central District Forum for Arts & Ideas and Seattle Art Museum bring you a night of music, poetry, dance and art that explores themes of Yayoi Kusama's artwork.
African American women have confronted mental illness in the privacy of their kitchens for years. This Kitchen Sessions works to illuminate our endeavors to heal. With performances by Ms. Briq House, Naa Akua, Tyisha Nedd, Angel Gardner, and Eva Walker we are confronting the narrative within the black community that keeps us silenced. As we encounter oppression our art responds. This show is meant to highlight the underbelly of black womanhood in a way that illuminates both struggle and survival.
Ticket :$10
Includes small bites, and the first 50 ticket buyers get the opportunity to see the exhibit at specific later dates in August. Exhibition tickets will be available for August 2 and 19 at 3 PM on a first-come first-served basis at Kitchen Sessions: Yayoi Kusama.
What are Kitchen Sessions?
1. An opportunity to highlight and celebrate black female identified artists.
2. An opportunity for the community to reflect on and discuss art with the artist.
3. An opportunity for inter-generational dialogue.
The Kitchen seems like the place where nourishment is found. Not only food but also valuable lessons. Little girls go from childhood to the kitchen. At some point we graduate into womanhood. What is the rite of passage that allows you to enter the sacred space of the kitchen? It functions as an epicenter, a doorway into a space where it is safe to examine the crooked room. It is safe to talk about the long list of things we experience as black women. As our hands conjure nourishment our mouths begin to form spells and we reshape our reality for a moment.