Pride is for Everyone 2022 w/ DJ Minx, Ouissam + Many More @ The Woods
June 24, 2022 @ 9:00 pm

-

June 25, 2022 @ 6:00 am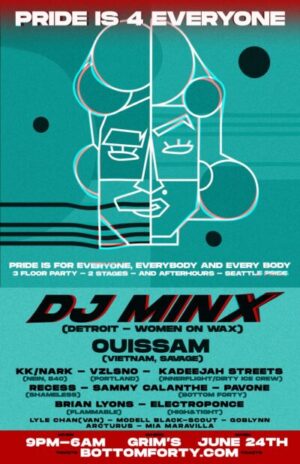 ▼ PRIDE IS FOR EVERYONE ▼
Nark Magazine and Bottom Forty present our biggest party of the year, featuring 2 stages, 3 levels, a fkton of lazers, installation, demos and an all night love affair of dance into the morning light brought to you by some of the best this beautiful and amazing city has to offer in this one-time only space.
This is a pride party for everyone, everybody and every body, because love and dance floors are not exclusive. Dress to the high heavens or leave your materials behind, this is a SAFE space for all walks of life.
This party is a rebellion against the aspects of nightlife that do not commonly intermingle the hard working local talent of different crews and scenes.
This party will raise funds for the Alternative Pride Community Donation.
This party needs you, so please hit the invite button and send this along to your friends.
♫♫ Your DJ Lineup ♫♫
DJ MINX (Detroit, Women on Wax)
OUISSAM (Vietnam, Savage)
VZLSNO (Portland, Chanti Darling)
KK/NARK (NEIN, Bottom Forty)
KADEEJAH STREETS (Innerflight / Dirty Ice Crew)
RECESS (Shameless)
SAMMY CALANTHE (Bottom Forty
PAVONE (Bottom Forty)
BRIAN LYONS (Flammable)
ELECTROPONCE (High&Tight)
:: Installation and Design by ::Bottom Forty
:: Dancer Squad ::Lyle Chan (Vancouver, Modell Black, Scout, Goblynn, Arcturus, Mia Maravilla
:: Documentation ::Geo Xeal
:: Accessibility ::
Bottom Floor Accessible, Please contact kevin@narkmagazine.com if you have accessibility issues for a discounted ticket
▼▼▼▼▼▼▼▼▼▼▼▼▼▼▼▼▼▼▼▼▼▼▼▼
Part of all proceeds benefit the Alternative Pride Community Donation
LIMITED number of tickets will be sold in advance to expedite entry, the rest will be saved for the door
▼▼▼▼▼▼▼▼▼▼▼▼▼▼▼▼▼▼▼▼▼▼▼▼
FRIDAY 6/24 9pm-6am at Grims/The Woods
gay/straight/curvy/wavvy/butch/queer/femme/daddy/dancer/prancer/romancer/gendered/nongendered/leather/lace/dom/sub/reckless/careful/pup/handler/cat/leashed/unleashed/horse/unicorn/raver/saver/mythical creature/standard creature/critters/otter/bear/bird/rabbit/furry/loner/center of attention/artist/admirer/all are welcome
(Visited 2 times, 1 visits today)
Related Events