Queers Are Just Better: A Pride Fundraiser
June 30, 2019 @ 4:00 pm

-

12:00 am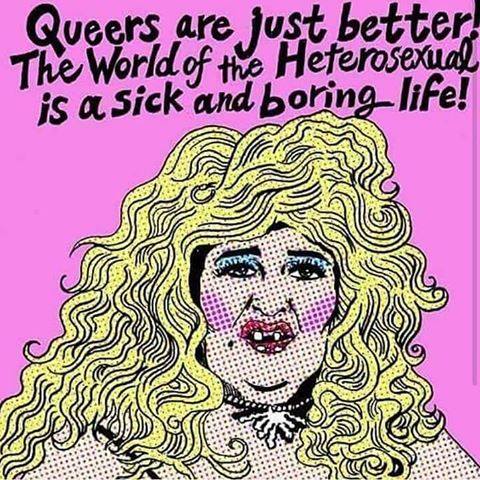 The Church of Charlatan and Hillside Bar Present:
Queers Are Just Better
A Pride Fundraiser for Stonewall Youth & 50 Years of the Stonewall Riots and Queer Visibility
In 1969, the Stonewall riots began, kicking off the fight for Queer Equality. While we have come so far in 50 years, we still have quite a ways to go for everyone in the LGBTQIA Community to be equal.
Every June, we come together to celebrate Pride month, but more importantly, honor those before us and create spaces for everyone in our community.
Join us for an event to celebrate our Queer Lives. It will be a day full of creating safe space, spreading love, dancing, drinking, and being Queer. We will also be raising money for Stonewall Youth (http://stonewallyouth.org) to support the next generation.
We are an event focusing on ALL Queer bodies, regardless of race, gender expression and abilities. It is a safe space and we encourage you to come as you are.
MORE FATS! MORE FEMMES! MORE POC!
Hosted by:
Andrew J Montaño
Featured Appearances by:
Maggie McMuffin
Finn James
Apollo Vídra
Voodoo Nightshade
Carson St. Clair (Nisha Miles)
Puddin (Adam Thompson)
Kylie Mooncakes (Mikey Xi)
and
Tati (Tatiana Aguilera)
Queer Beats of All Kinds by:
DJ Toast (John Campos) & DJ Mike Steve (Michael Stephens)
The return of Still Drunk Bingo!
Co hosted by:
Still Drunk Paul and Amber Marie
Come buy raffle tickets to win great prizes and Jello shots! All proceeds go to Stonewall Youth.
Feel free to come in whatever best represents your Queerness, but I always encourage some High Fashion Camp!!!!
No Cover! No Corporate Sponsers! No Pink Dollar Greed!
Hillside Bar
1520 E Olive Way
21+
4p-Midnight
Accessibility: Hillside is a two floor, split-level establishment, separated by two small stairs. Both floors are wheelchair accessible through street level doors. There are two gender neutral bathrooms, one with a wheelchair accessible stall. For questions, please contact Hillside Bar at 206.324.0154 2p-2a 7 days a week or go to http://hillsidebar.com/contact
(Visited 3 times, 1 visits today)
Related Events