SLIP: A Queer Afters Pride Moment @ Kremwerk Complex
June 26, 2022 @ 2:00 am

-

11:00 am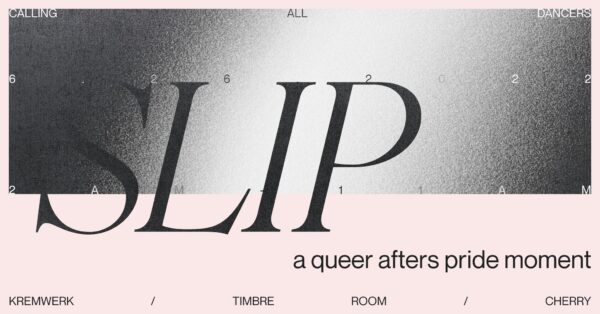 CALLING A L L DANCERS
CALLING A L L DANCERS
CALLING A L L DANCERS
Cucci and The Kremwerk-Timbre Room-Cherry Complex welcome to you S L I P, a QUEER AFTERS PRIDE MOMENT, starting in late night, blasting through sunrise into the day. We are offering 3 rooms showing casing the h-o-t-t-e-s-t sonic selectors accompanied by ALL STAR "drag" performances at 333AM.
200AM DOORS
333AM SHOWS
517AM SUNRISE
6AM MIMOSAS
1100AM EXITS
Bimbo Hypnosis
Cody James (PDX)
cucci
Diamond Lil
.dmp
Ellie Dodger
Jenn Green
Kennedy Colby
Michael Magnan (NYC)
nohup
Reverend Dollars
Rowan Ruthless
Sharlese
Sister Zo (NYC)
Stevie 303
Succubass
Ultrathem (MIA)
ROOM SET LIST:
Cherry
2AM Stevie 303
333AM Cody James, cucci, Diamond lil, Kennedy Colby, Rowan Ruthless
4AM Ultrathem (MIA)
6AM Ellie Dodger
8AM Sharlese
Kremwerk
2AM Michael Magnan (NYC)
5AM .dmp
Timbre Room
2AM Succubass
330AM Jenn Green
5AM Bimbo Hypnosis
630AM nohup
800AM Reverend Dollars
930AM Sister Zo (NYC)
Design by Stevie Didis
……………………………………
SAFER SPACE The following actions or displays of behavior will not be tolerated: bigotry, racism, sexism, transphobia, homophobia, misogyny, and ableism.
CONSENT Consent is required when interacting with others. A person's choice of self-expression is not an invitation for non-consensual touching. Any form of harassment including leering, rude comments or touching will be dealt with, and anyone caught harassing other patrons will be given a lifetime ban from our club. Our staff is here to support you.
PHONES For the sake of the vibe during dance parties, we ask that you avoid using your phones or taking photos anywhere on the dance floor. Feel free to use your phones on the patio.
………………………………………
To stay in the loop about upcoming events, ticket giveaways, and more, sign up for the Kremwerk + Timbre Room Complex mailing list! 
http://www.kremwerk.com/
(Visited 2 times, 1 visits today)
Related Events