Smokey Brown's Circus at The Crescent Lounge
August 8, 2019 @ 8:30 pm

-

11:30 pm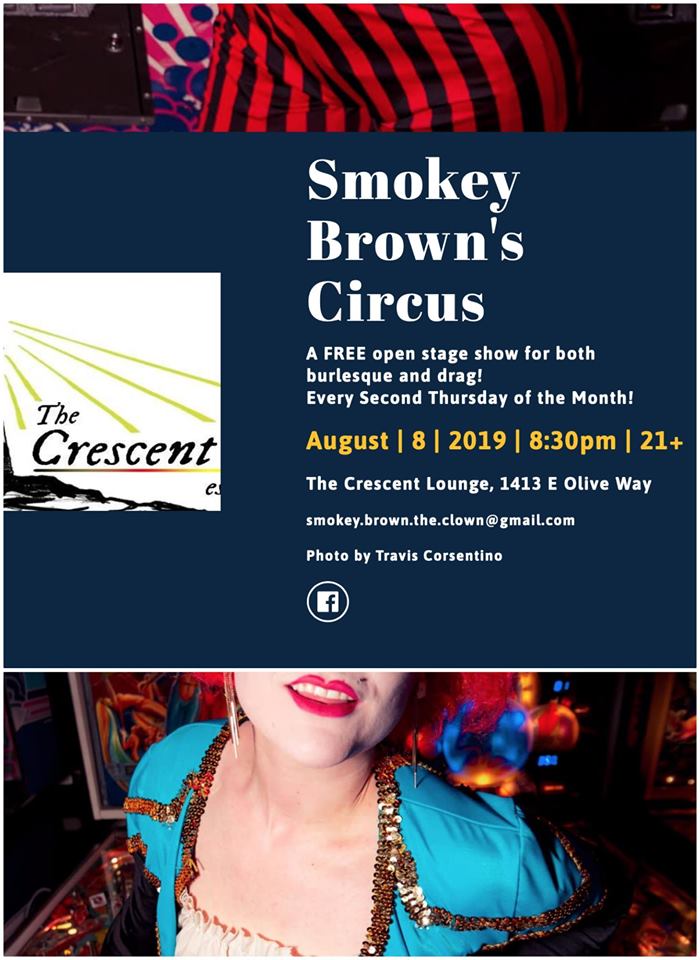 Come one, come all to Smokey Brown's Circus!
At The Crescent Lounge!
8:30
FREE FREE FREE
21+
Jello shots/hot pockets/drinks/prizes
An open stage opportunity for new and current performers! Burlesque, drag, performance art, magic, tricks and treats of whatever anyone wants to bring on the stage!
Want to sing karaoke as well? You can do that too! KJ Tony James will be spinning karaoke songs in-between the acts and after the show until close!
Bring you $$$ for tips. Singles will be available for trade, along with jello shot syringes for $4, and regular jello shots for $3.
Tarot card readings by Justin in the back. One of the best in Seattle, and accepting donations for their work!
Want to submit to the Circus?
fill this form out!
https://forms.gle/S4hsM8WDpiKJgvxJ8
Cast (will update with more):
Delilah Love
Noelle Noir
Isabella L. Price
Carlotta Shakin
Julien Hellfire
Remy Sparklemuffin
Also!
Baby Witch!
(Visited 1 times, 1 visits today)
Related Events