SOSea Self-Defense Active Shooter Training
July 19, 2016 @ 6:30 pm

-

8:00 pm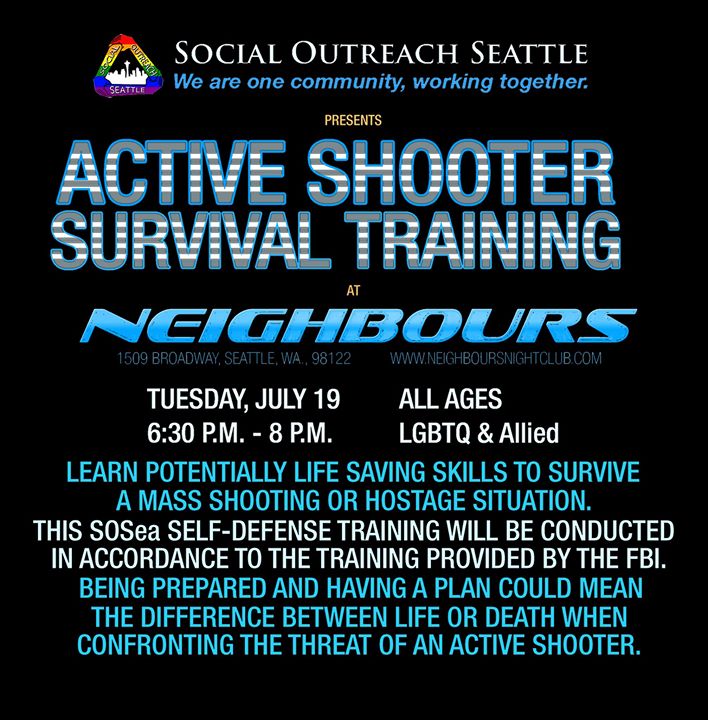 Join Social Outreach Seattle (SOSea) for our July Self-Defense class: ACTIVE SHOOTER SURVIVAL TRAINING.
In the aftermath of the horrific attack at a gay club in Orlando, Florida by a man who entered the establishment with an assault rifle and handgun, we learned that most of the victims were shot and killed within the first few minutes of the attack. With an increasing number of mass shootings happening with regularity in the U.S. everyday, SOSea believes that it is beneficial for members of the LGBTQ and Allied community to learn important skills that might one day save your life if you are ever faced with such dangerous circumstances.
The training, which is open to all ages, skill sets, and is inclusive of all sexual orientations, gender, and gender expressions, will be consistant with what the FBI teaches for an active shooter emergency and additional instructors will join our self-defense and martial arts expert Mac S. McGregor to facilitate the training. Participants will leave with a pamphlet of information to take home to refrence whenever they want to refresh what they learned, or pass on to others so they too, might benefit from the training.
You do not have to dress in any particular way because mass shootings happen at places like movie theaters, nightlife venues and shopping facilities and people are dressed in what they would wear to work or school. We find it is best to learn in the clothing that you are most comfortable in. Please save all questions for the end of the training and we remind all potential participants that all SOSea training, community engagement, and outreach events are a hate-free zone. Hate speech, violence or the threat of violence will not be tolerated. Come to this event to learn from our instructors or don't come at all. We look forward to seeing many of you at this event as we have the capacity to host hundreds of people inside the large space.
If you have any questions regariding this event, what to expect, or want to address concerns or comments please send email to SocialOutreachSeattle@gmail.com and we will get back to you shortly.
(Visited 1 times, 1 visits today)