TDBC Presents: MOMMIE DEAREST Audience Participation Screening w/ Peaches Christ
December 9, 2021 @ 7:00 pm

-

10:00 pm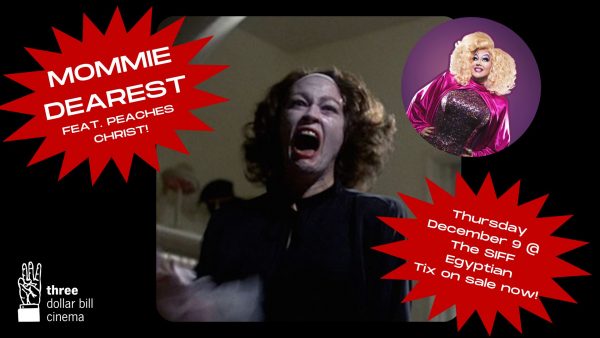 Drag legend Peaches Christ returns to Seattle for the first time since before the pandemic to engage in some riotous hosting buffoonery as TDBC presents MOMMIE DEAREST, the campy, queer, Joan Crawford-centric cult classic. And, we're taking it up a notch by making in audience participation. We'll have goodie bags and instructions for each and every audience member to help you navigate the insanity that we're putting together.
You can get tickets one of three ways: $25 access tickets for students, seniors, and low income patrons; $50 for a ticket to the screening; and $70 for a ticket and a special meet and greet with Peaches Christ herself!
This is a fundraiser and all proceeds from the event benefit TDBC's year-long mission!
Proof of vaccination and masking will be required at this event, and all events until further notice
Related Events