The Triple Door Presents: Suzanne Westenhoefer
June 25, 2022 @ 6:30 pm

-

8:30 pm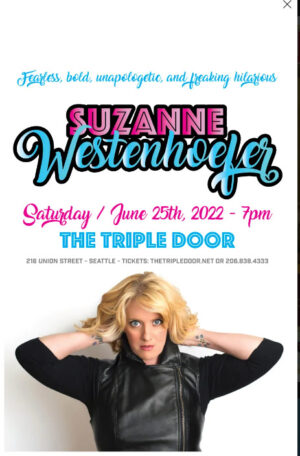 No one ever accused Suzanne of being subtle, not the shuttle driver who took her to the airport, the woman she was in line with at the grocery store yesterday and certainly not her audiences.  Subtle, she is not.
After 25 years of groundbreaking, stereotype-shattering and brutally honest comedy, she's not about to start pulling punches now.
The kid from Amish Country who began her comedy career on a dare is celebrating a quarter century of out, open, no-holds-barred comedy.
Suzanne tells the truth. The truth is life is funny, especially when it's fermented in Suzanne's mind. That's why she could never be in the closet, making her a trailblazer when she started doing stand-up in the 1990s. She was the first openly lesbian comedian with an HBO Special and the first openly lesbian comedian on "Late Night with David Letterman."
(Visited 2 times, 1 visits today)
Related Events