Thriving While Trans
February 2, 2019 @ 7:00 pm

-

9:00 pm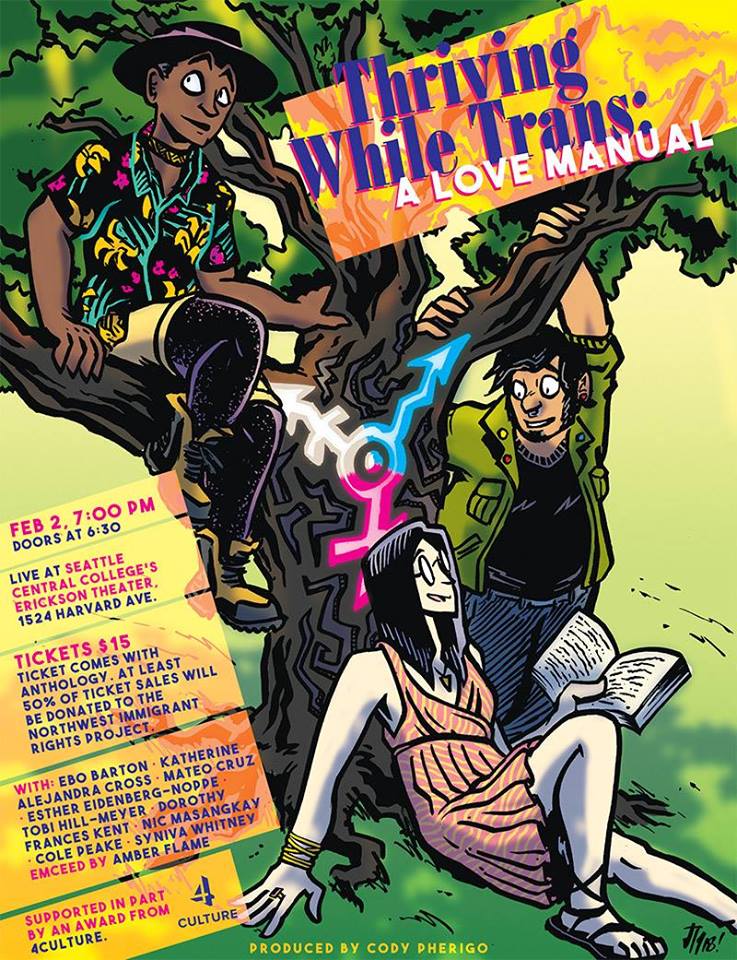 Thriving While Trans: A Love Manual is a literary project that centers testimonies of transgender thriving and resilience. TWT gives trans artists a place to publicly revise and claim a trans narrative that highlights the immense amount of strength, creativity, love, and intelligence steeped in transgender lives. Welcome home!
This event features poetry, storytelling, music, and dance. This project was supported, in part, by an award from 4Culture.
Doors: 6:30pm
Show: 7pm
Performers include:
Ebo Barton
Katherine Alejandra Cross
Mateo Cruz
Esther Eidenberg-Noppe
Tobi Hill-Meyer
Dorothy Frances Kent
Nic Masangkay + Collaborators
Cole Peake
Syniva Whitney + Collaborator
Emceed by Amber Flame!
Produced by Cody Pherigo.
TICKETS: https://thriving.bpt.me
Admission comes with an anthology of performers' work. At least 50% of ticket sales will be donated to Northwest Immigrant Rights Project.
***Content Warning: Contains some graphic sexual material***
REQUIRED READING: Accessibility Information
We will have an interpreter for Deaf/Hoh audience members, and there will be a reserved section for you and your guests at the front of the theater, along with reserved seating for audience members with limited vision.
Some of our performers and audience members have MCS (Multiple Chemical Sensitivity), which means that perfumes and fragrance can cause serious harm to them. These fragrances are in air fresheners and many soaps, hand sanitizers, hair products, laundry detergent, and more. Please avoid using these scented products before and during the show. If you cannot comply, or come to the show with these scents on your person, we will not be able to seat you, and you will be turned away without refund. For more information on MCS, please go to: http://www.healsoaz.org/mcs.htm.
For audience members with MCS: there will be a reserved section for you and your guests at the front of the theater with at least 1 air purifier. We cannot guarantee a scent-free auditorium, but will offer a full refund if the event space becomes intolerable and you need to leave early.
The Erickson Theater has 4 wheelchair-accessible seats directly off the lobby.
Related Events