Upcoming Events
Events List Navigation
May 2019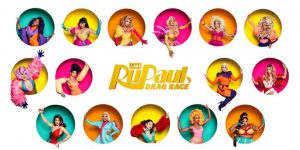 Come join the Staff at CCs for RuPauls Drag Race Season 11 kick off starting at 8pm with singer Miley Cyrus whom will be the first guest judge on RuPaul's Drag Race season 11, joining host RuPaul and judges Michelle Visage, Carson Kressley and Ross Mathews at the table on the Thursday, Feb. 28 premiere. shown on all 25 screens including our 90" & 110" high definition projection screens with sound. So come early to get your viewing spot. Come…
Find out more »
June 2019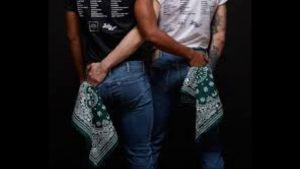 In honor of the month of June & Father's Day let's celebrate all the Leather Daddy's and Daddy's boy's. Show which you are by flagging hunter green. Suspension bondage demos done by Daniel McGlothlan & Knotin. Clothing check will be available and manned my the Gay Fathers Association. All proceeds to benefit the Gay Fathers Association.
Find out more »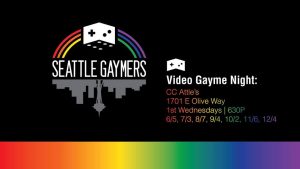 Join Seattle Gaymers every first Wednesday at Cc Attle's for Video Gayme Night! Due to the increased attendance CC's has allowed us to spill out of our contained area to include the first large screen facing the bar (an extra TV and three table's worth). Thank you for your support as this event grows! As this is a community event, we are pooling docks/switches/joy cons/systems, but you are welcome to come without one! Please contact directly if you are willing…
Find out more »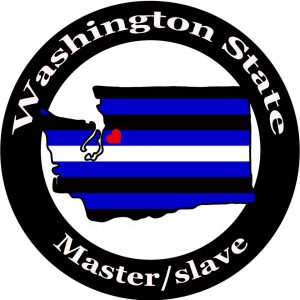 Please join host venue CC'Attles and Staff along with Guest hosts Washington State Mr-Ms Leather Organization In kicking off this years Washington State Master/Slave Contest Weekend June 7-9 Produced by Northwest Master 2014-Master John & Northwest slave 2014-slave ann. A night of socializing with old friends and new.
Find out more »
July 2019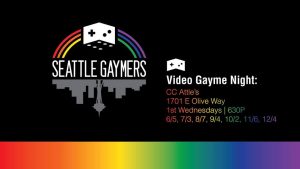 Join Seattle Gaymers every first Wednesday at Cc Attle's for Video Gayme Night! Due to the increased attendance CC's has allowed us to spill out of our contained area to include the first large screen facing the bar (an extra TV and three table's worth). Thank you for your support as this event grows! As this is a community event, we are pooling docks/switches/joy cons/systems, but you are welcome to come without one! Please contact directly if you are willing…
Find out more »
August 2019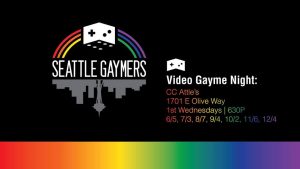 Join Seattle Gaymers every first Wednesday at Cc Attle's for Video Gayme Night! Due to the increased attendance CC's has allowed us to spill out of our contained area to include the first large screen facing the bar (an extra TV and three table's worth). Thank you for your support as this event grows! As this is a community event, we are pooling docks/switches/joy cons/systems, but you are welcome to come without one! Please contact directly if you are willing…
Find out more »
September 2019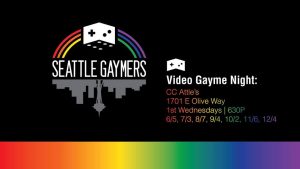 Join Seattle Gaymers every first Wednesday at Cc Attle's for Video Gayme Night! Due to the increased attendance CC's has allowed us to spill out of our contained area to include the first large screen facing the bar (an extra TV and three table's worth). Thank you for your support as this event grows! As this is a community event, we are pooling docks/switches/joy cons/systems, but you are welcome to come without one! Please contact directly if you are willing…
Find out more »
October 2019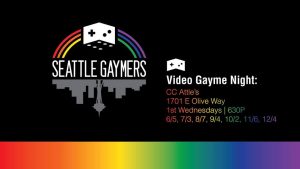 Join Seattle Gaymers every first Wednesday at Cc Attle's for Video Gayme Night! Due to the increased attendance CC's has allowed us to spill out of our contained area to include the first large screen facing the bar (an extra TV and three table's worth). Thank you for your support as this event grows! As this is a community event, we are pooling docks/switches/joy cons/systems, but you are welcome to come without one! Please contact directly if you are willing…
Find out more »
November 2019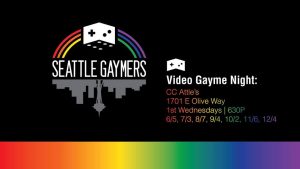 Join Seattle Gaymers every first Wednesday at Cc Attle's for Video Gayme Night! Due to the increased attendance CC's has allowed us to spill out of our contained area to include the first large screen facing the bar (an extra TV and three table's worth). Thank you for your support as this event grows! As this is a community event, we are pooling docks/switches/joy cons/systems, but you are welcome to come without one! Please contact directly if you are willing…
Find out more »
December 2019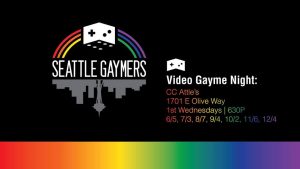 Join Seattle Gaymers every first Wednesday at Cc Attle's for Video Gayme Night! Due to the increased attendance CC's has allowed us to spill out of our contained area to include the first large screen facing the bar (an extra TV and three table's worth). Thank you for your support as this event grows! As this is a community event, we are pooling docks/switches/joy cons/systems, but you are welcome to come without one! Please contact directly if you are willing…
Find out more »
January 2020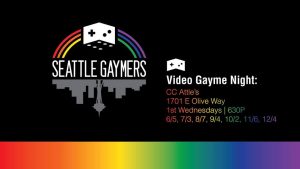 Join Seattle Gaymers every first Wednesday at Cc Attle's for Video Gayme Night! Due to the increased attendance CC's has allowed us to spill out of our contained area to include the first large screen facing the bar (an extra TV and three table's worth). Thank you for your support as this event grows! As this is a community event, we are pooling docks/switches/joy cons/systems, but you are welcome to come without one! Please contact directly if you are willing…
Find out more »
+ Export Events