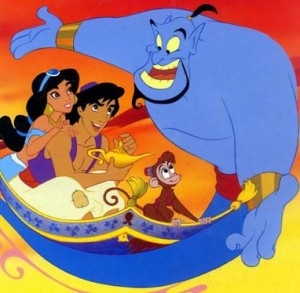 In a major coup for Seattle, the musical theater version of the classic Disney film, Aladdin, will debut at The 5th Avenue Theatre this summer. The show will feature the Academy Award®-winning score by Alan Menken, Howard Ashman and Tim Rice, but with additional new music written by Mr Menken. Librettist Chad Beguelin has written the book for the new show and contributed lyrics for the new songs with Mr Menken. (Howard Ashman, the original co-lyricist, died from complications from AIDS during the writing of the original film.) Previews for Aladdin begin July 7 and the show runs through July 31. The new show replaces the previously announced production of Oklahoma, which has been postponed until the 2011/12 season, dates to be announced. From the press release:
Ticket holders for Oklahoma will be receiving replacement tickets for Aladdin. Tickets for Aladdin are available by calling 206-625-1900/toll-free 888-5TH-4TIX (584-4849), at the box office at 1308 5th Avenue, Seattle, WA 98101, or online at 5thavenue.org.
The stage production will include ALL the Oscar winning songs from the film, as well as songs written but not used for the film, and "marks a return to the authors' original vision: a loving homage to the Hope/Crosby "Road" films (of the 1940's) with a score invoking the jazz sounds of stars like Cab Calloway and Fats Waller". Director and choreographer Casey Nicholaw, who earned his first professional credit at the 5th Avenue before heading to Broadway to work on Spamalot, The Drowsy Chaperone and Elf: The Broadway Musical, will helm this production. This show has not been cast and no rehearsal schedule has been announced.
We'll keep you informed on details as they develop.
Tags: Aladdin, Disney, The 5th Avenue Theatre