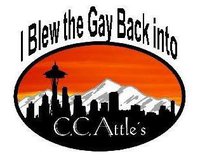 It's not set in stone, ('cause anytime you deal with contractors and remodeling is a never ending quagmire of frustration only exceeded by Middle Eastern conflict…) but the Sisters of Perpetual Indulgence just posted a new event on their Facebook page for "I Blew the GAY Back Into CC's" to take place Friday, February 18. Here's what the invite has to say:
You helped " 'Suck the Gay' out of CC's".

Now, please join the Sisters of Perpetual Indulgence, the Abbey of St. Joan. – "BLOW the GAY right back in." to what I am sure to be a new chapter and tradition in our community.

Also, we have a very special 'something' planned for a staff member.

Date is tentative but we will keep you updated.
Just plan on being at CC's – Opening night.
There's no confirmation from CC's on their opening date at this time. If you've been out of the loop, CC's had to vacate their original home at 12th & Madison to make way for new construction at that location and subsequently took over the Cafe Metropolitain space at 1701 East Olive Way. They had hoped to open around the holidays, but remodeling delays pushed that date back, with manager Chris Daws suggesting it probably would be a February re-opening. Hopefully, Mr Daws will release some new information on this in the days ahead. We'll keep you posted.