Hmmm…we've yakked about Chorus concerts and the Opera and the Oscars today, but what about stuff to do that involves music that's not older than Goldie Hawn's wig and a good stiff drinkie poo? Well, you have PLENTY of options tonight, Friday, February 25…there is a LOT going on this weekend for the nightlife crowd.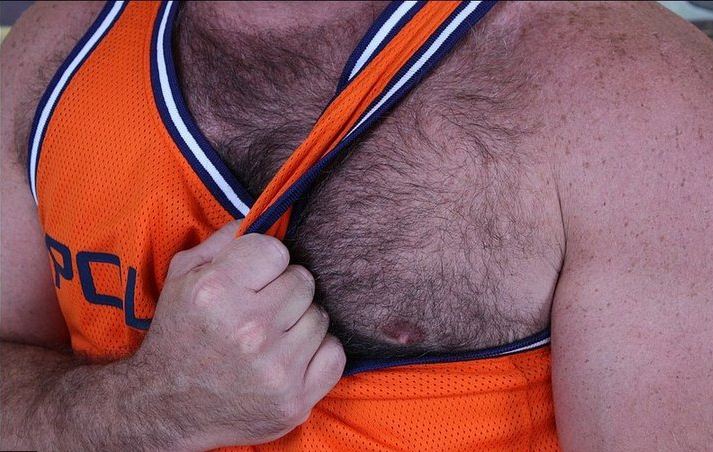 "Voyeur" at The Seattle Eagle sounds like another opportunity for Muscle Bears to take off their shirts and dance the night away…We have no problem with that. We also approve of the image they use to promote the event. Some of us have a thing for hirsute man cleavage…They also have a special on cucumber cocktails…we're not sure what to say about that, or, whether we are willing to go down the disgusting road of "cucumber" and "cock" tail jokes, so we won't.
If you like Nuns and Country Western Music, head to The Cuff Complex for "Blazing Habits II: A Sister Hoedown". It's the ideal choice for lapsed Catholics that have the hots for Garth Brooks….or, Girth Brooks, for that matter. It starts at 8pm and proceeds help benefit the Sisters of Perpetual Indulgence scholarship fund. Drag Nuns and Hoes go hand in hand!
If you prefer your music to be a little more fun-KAY, then head to Chop Suey's monthly "Comeback". Colby B has flown in from NYC for the event and DJ Porq will also be on hand plus special guests Ill Camino and Trans-fat who have courageously ventured up from PDX to spin the night away. We love Comeback…if not for the tunes and groove, then for their filthy, filthy posters. Both tunes and publicity are AWESOME…and FILTHY!
For you adorable baby homos at U-Dub, the awesome kids at Q Center, the University of Washington organization for LGBTQ students, are presenting a drag competition tonight at Meany Hall from 7pm to 9pm. It's FREE and hosted by Al and Will Lykya. Not sure if this is open to NON-students, but go to the website and poke around for more info. This is also the only event on here that's ok for the under 21 crowd to attend, so have fun kids!
We've already yakked about the arrival of Jujubee to R Place and even scored an interview with the little minx. The RuPaul's Drag Race Season 2 contestant pops into town for shows tonight and tomorrow. VIP tickets are sold out, but a few General Admission tickets remain. Check out the sassy vixen…if you dare.
Finally, for our readers in the South End, check out "Heels and Hoes" at The Benchwarmer in Kent. We're assuming this has something to do with drag queens in heels, acting like a bunch of ho's but it could be a benefit for Lady Farmers who need new gardening equipment as well…
(Visited 1 times, 1 visits today)