"]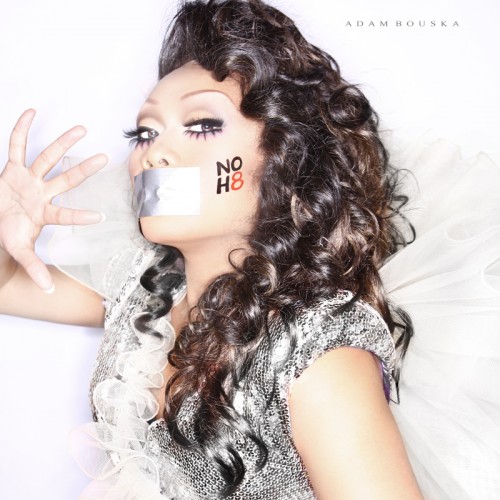 The Drag Queen who made it to the top three in RuPaul's Drag Race Season Two, Jujubee, is finally making her Seattle debut at R Place on February 25th and 26th. Tickets are selling like hot-cakes and there is no question why that is, but we have some unanswered questions regarding this queen's career since the show. Seattle Gay Scene grabbed some tit-bits from this majesty and we have some juicy drama to share with you.
Seattle Gay Scene: Jujubee, darling! Welcome to what is known as Seattle to some, but to many as "Emerald City". What brings you to Seattle and what took so long to make that choice?
Jujubee: Hey Brian! Thank you so much for this! I appreciate the support! I can't wait to see the lovely city! R Place is going to be a FIERCE time! I'm wondering why it took so long myself.
SGS: You're going to be here in Seattle for at least two days. What things do you ABSOLUTELY want to do while you're in town?
Jujubee: Cheesy me wants to see the first Starbucks! The Market is something I'd love to see as well.  I hear you guys have the best sushi so I'll be in a good suchi coma very soon.
SGS: On the 25th and 26th, you'll be performing two different shows at R Place. What should we expect from such a dynamic and inspirational drag performer?
Jujubee: Awww thank you! R Place is going to be a blast! Expect to have fun! I use drag to tell a story. My goal is to evoke emotion and create love. We're going to have a fabulous night!
SGS: Will there be any special guests traveling with you?
Jujubee: The most special guest in my life will be with me. My boyfriend, best friend, manager happens to be the same person; Chris! He's gorgeous.
SGS: What queens from season two do you still talk to?
Jujubee: I try to talk to everyone as much as we can. With all our crazy schedules we send mass texts at times. I talk to Raven on the phone the most. She's a wonderful person. Jessica lives here in Boston so I get to see her a lot. She's my special puta.
SGS: On the show we learned that you studied drama/theater. Since the show have you been more involved with the theater industry, such as developing a one-woman show?
Jujubee: I love the theatre! I am working on music actually. I've written a few songs and am ready to record! Watch out Beyonce! Hahahahaha. A one-woman show sounds like a great idea!
SGS: Tell us what your deep, dark and dirty secret is?
Jujubee: It's too good…BUT I will tell you about my JUJUTee's on my website www.jujubeeonline.com Get into it and wear it loud! Meeow!
SGS: On the contestants for season three, who is the most talented?
Jujubee: You betta do it! I smell a most shady award for me. Hahaha. I actually LOVE them all! I haven't seen everything they can do so I couldn't answer really. I know I keep watching! Entertainment at it's best! Thank you LOGO!
SGS: Who is the most dramatic?
Jujubee: Shall I really say? Hehe I guess being dramatic isn't so bad, but Miss Mimi. I love her.
SGS: Who is the most stylistic?
Jujubee: I live for Raja, Mariah, Carmen, Delta and Manila! Everyone is stunning, but those ladies turn me OUT!
SGS: What piece of advice would you give yourself when you were at the age of 16?
Jujubee: I always tell myself no matter what, everything is going to be just fine. I told myself that all back then, and I stand by it now.
So there you have it! Don't procrastinate buying your tickets anymore. Get online and order your tickets before both shows are completely sold out. Werq!
(Visited 1 times, 1 visits today)