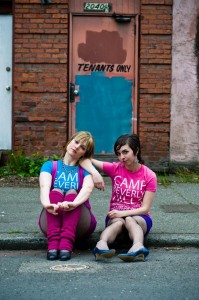 PrideFest at the Seattle Center is just days away and the excitement in the air is palpable. The festival has the most amazing line up which includes Thelma Houston, Armistead Maupin, Crystal Bowersox, Secret Shoppers, Glitterbang, CJ & The Dolls, Fannie Mae Darling, Jinkx Monsoon, DJ Skiddle, and too many more to name! One of the most exciting things that myself and my business partner in Qulture Qreative, David "D$" Richey, have pulled off as a part of our curation of the day's festivities is, wait for it….the TEAM GINA reunion! Yes, you read that right! Your two favorite Gina's are coming together to bring you what is sure to be a whiz bang show! I was lucky enough to score a brief interview with both Gina Bling and Gina Genius in advance of Sunday's show!
LAK: Seattles queers are SO EXCITED about this reunion show you guys are doing for Seattle PrideFest. Are you gals pumped, or what?
TG: Pumped! Let's see how many of our lyrics we remember, and how many outdated pop culture references are still funny!
LAK: Can we expect a glimpse of the classic Team Gina spandex??
GG: That's the debate we're having right now! I suggested that we should wear new, non-matching outfits that show how we've grown and changed. But Bling thinks we should give the fans the classic Team Gina looks they know and love. So we are currently taking votes and suggestions from fans as to what they want to see us wear. What is your favorite Team Gina costume of all time? Or do you just want to see us in fanny packs and crocs? Tell us ASAP…
LAK: What have you ladies been up to since your last Team Gina show?
GG: I moved to Los Angeles and founded a dance group called PERMS that is dedicated to the preservation of 90s "fly girl"-style dancing. I'm also writing new music and working for Pop Up Video on Vh1.
GB: I am a small business owner of a spa in Ballard and I ran some half marathons. I am in a new band called Fever Teeth that's dance/rock/metal and plays shows locally.
LAK: What 5 topics would you write about if you were going to do another Team Gina album?
TG: (1) We never did finish that song about Obama being sexy, so that would have to be #1. (2) A Tea Party theme song. An anthem they'd sing along to until, all of a sudden… wait a minute… (3) A femme unity song about how femmes should not compete over butches. (4) A sequel to "Wife-Swapping" called "I can't believe we're in our 30s and this song is STILL relevant". (5) A love ballad dedicated to Spanx.
LAK: …and that album will be out when? C'mon, you can't blame a fan for tryin'!
TG: When Phil Collins comes out of retirement and agrees to produce it.
LAK: That sounds doable…
Don't miss Team Gina's reunion this coming Sunday on the Main Stage at PrideFest at 5PM!
For more on Team Gina, click here!
Tags: David "D$" Richey, L.A. Kendall, Qulture Qreative, Seattle PrideFest, Team Gina