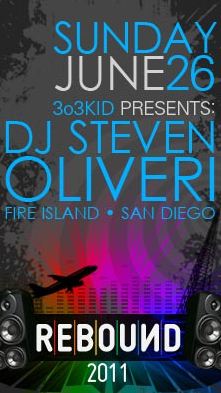 The clock is ticking if you want to get your tickets to some of the biggest dance parties during Seattle Pride Weekend. Two Knights Events announced Wednesday evening that advance tickets for "Evolution" at The Baltic Room happening Friday night, are sold out, but tickets will be available at the door for one of the biggest dance events of the year starring the super zexy and talented DJ Craig Gaibler.
There are still a few tickets left for the big, huge Sunday mega event, "Rebound" with DJ Steven Oliveri happening across the street from Seattle Center at the iMUSIC Event Center (for old timers, the old location of PolyEsters) at 332 5th Avenue across the street from EMP. That event starts at 3pm and heats up for the rest of the night. A few advance tickets for $15 are available HERE, or at the Baltic Room, so hurry…or, get them DOS at the door for $20.
AND, we have a PAIR of Tickets to give away for REBOUND!
We're going to make it a little contest…if you could be a DJ for one night, what THREE SONGS would you absolutely, positively HAVE to spin during your set. Leave your three choices in the comments and we'll pick the most imaginative and interesting choice of songs as the winner and announce it tomorrow (Friday) morning!
AND, they'd better be some killer songs on your list! (Hint: Strangeways is partial to Helen Reddy and the Dead Kennedys…but only when they duet.)
(Visited 1 times, 1 visits today)