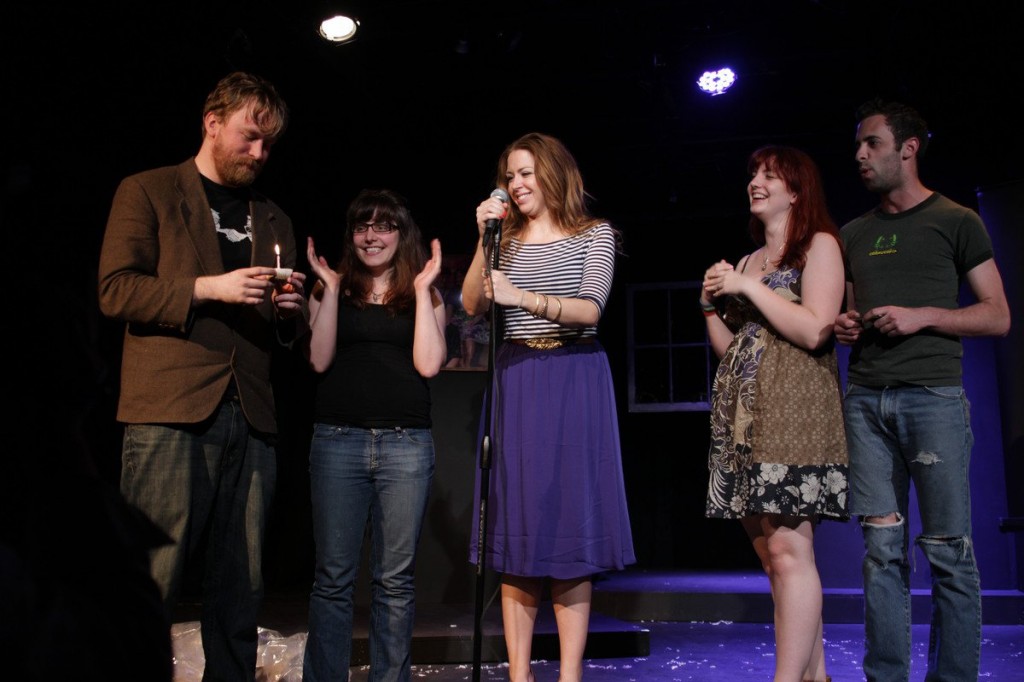 Barbara Holm, Afton Pilkington and myself singing Happy Birthday to comedian, Emmett Montgomery. Photo credit: Ian Johnston
A lot has been happening this past week that I've failed to keep my writing pencil and tablet with me, and we've got lots to dish. A lot of my time this past week has been consumed by the Seattle International Film Festival, working in their box office and at venues across the city. I would like to first take a moment and declare my anguish and frustrations with something simple as flying a pride flag on top of the Space Needle. Why does one agency want to stir so much shock and agony over a silly flag being flown for three days? I remember last year on the morning of the Seattle Pride Parade and I looked up at this historical monument with a rainbow pride flag flapping its own self pride in the wind and this made me feel great inside! I for one am saying, "Screw the Space Needle" and let's focus our attention on getting a flag that represents our community in other businesses and landmarks (for those of us who wish to sport this flag). Many of my friends have flat out said…
I don't need to sport a rainbow flag to show how proud I am to be a homosexual! And neither do you! Remember that you've been proud out of the closet for nearly 15 years and counting. That flame lays within you, and not on the outside!
Last weekend was so much fun and full of events in the theater community. First it started off with the opening of "Quickies: Volume 12" at Theatre Off Jackson, presented by Live Girls! Theater that included a number of local actors including Jason Sharp, Tracy Leigh, and Val Brunetto. The biggest highlights of the evening for many in attendance was the introduction by Jason Sharp and Tracy Leigh, Sharp removes his shirt in an effort to show off his determination and passion for live theater. The other highlight was the well rounded programming of short quicky plays written by local female playwrights. I highly recommend this smart and quirky set of short plays for your entertainment calendar and you best hurry because this show closes on June 18th at Theatre Off Jackson. After indulging into a glass of red wine, the lot of us transferred our bodies to Spin the Bottle at Annex Theatre. Upon our arrival there was another chance of indulgence that included even more cocktails, laughter and shirtless victims. It was quite a nice feat for my eyes to see live painters working on three different portraits which were auctioned off at the end of the night by Annex Theatre's Artistic Associate, Bret Fetzer (no one else could pull off what he does. Just sayin').
Ah shucks. With all due respect for the spontaneity of my shirtless-ness both during the house speech for opening night of Quickies 12 and then for my reading of Scot Agustson's SMUT for Annex Theatre's Spin the Bottle, I'll admit that I didn't plan on stripping but I was certainly willing to go there! It's true. Sometimes theater inspires you to take off your clothes, and frankly I wish Seattle had more of it.

Jason Sharp
For you readers listen to this amazing update! If you enjoy reading what I have to say each week, then you'll devour my official site for "New Queer on the Block". You can also catch me on Twitter and Facebook! In the coming weeks I will be purchasing a domain name for NQ on the B and it's my hope that this site will be the next great thing in your daily reading, besides Seattle Gay Scene of course! The sun is becoming more and more visible to us Seattleites and I urge you to get out there and play with kiddos. Get out to the outdoor and indoor theaters, support live entertainment and start up a conversation. The world is still young and so are you!
(Visited 2 times, 1 visits today)