AIDS/LifeCycle is the big annual cycling fundraiser event that's been around since 1994 that raises money in the battle to end HIV/AIDS. Every year, participants make a 7 day, 545 mile bike ride from San Francisco to Los Angeles to raise monies AND awareness…since 1994, over 300 million bucks have been raised! For the 2024 event, Seattle has been chosen to host a special kick-off event happening Saturday, September 23rd.
It will start at our own iconic Seattle Space Needle (or more specifically, by the Howard S Wright Memorial Fountain in the circular driveway just off Broad Street, the official entrance for the Space Needle) at 10am then proceed on a 15 mile bike ride with a 600 foot elevation. You'll need to provide your own bike, helmet and water bottle!
If you're too out of shape for that sort of thing (like me!) you can always show up to cheer them on!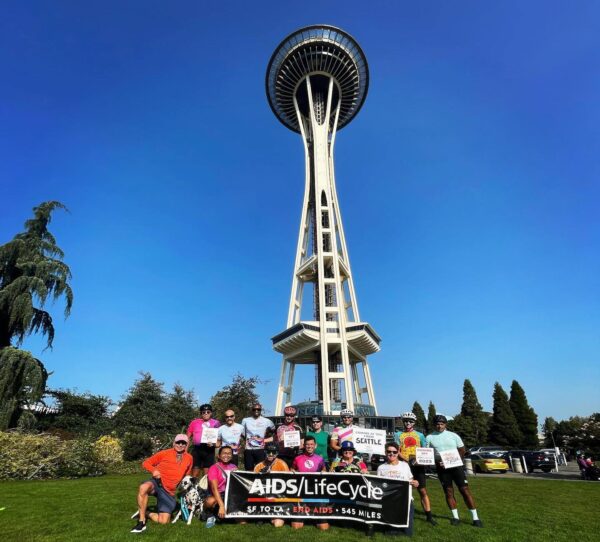 More poo:

This kick off event is open to all, beginner-friendly, and all-paces-welcome! It will start at the Pacific Center under the Space Needle and continue for 15 miles around the beautiful views of Lower Queen Anne and Magnolia. Whether you want to join or support the cyclists in this challenge, this event is a great way to get to know the community, ride around Seattle and show your beautiful colors.

All participants are required to bring a helmet and water bottle. Before riding out, we'll go over important safety tips and distribute printed route sheets.

AIDS/LifeCycle Kickoff Rides are beginner-friendly, all-paces-welcome, and open to all! If you're curious about joining the Ride, this is a great way to get to know the community and go on a ride with us before deciding to register. We have a delightful (15-mile) route to enjoy. Come join cyclists from all over town on this ride, hosted by Team Outspoken.

We'll have printed route sheets for all who RSVP and we'll go over important safety tips in the morning. AIDS/LifeCycle training rides are planned and supported by Training Ride Leaders and we can't wait to train with you this season!

Meetup: 10:00 AM Howard S Wright Memorial Fountain (Near the Space Needle)
Roll out: 10:30 AM
Ride Details: 15 Miles, 600 Ft Elevation

Contact us at info@aidslifecycle.org to learn more about our incredible 7-day Ride from SF to LA.
(Visited 84 times, 1 visits today)